The Flyers picked up young NHL D man, Steve Eminger in a draft day trade with Washington.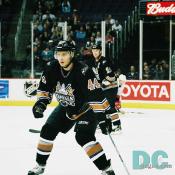 The Flyers paid a significant price in giving over a first rounder, the 27th overall pick, to the Caps for the 24 year old, but they did also get a 3rd round pick from them as well.
Though originally drafted as the 12th overall pick in 2002, it seems the perception amongst most casual observers is that Eminger has been a bust of sorts so far, never seeming to put it all together for significant stretches during his tenure with the Caps. The oft used (overused) label "inconsitent" comes up in many of his detractors' descriptions. Not knowing a heck of a lot about him myself, I didn't know what to think about the trade at first. I knew that Eminger had scored against the Flyers in the playoffs but other than that, I don't recall anything remarkable about him, which, for a D man, isn't necessarily a bad thing.
So was this guy (and a 3rd) worth a late first round pick? Well, given that the Flyers got a good D prospect in Luca Sbisa with the 19th overall pick they obtained by trading Umberger to Columbus, (someone who they more or less had to sacrifice for cap reasons), I felt it was ok to gamble a bit with the later 1st rounder. If the Flyers had a chance to pick up touted goalie prospect Chet Pickard (whom they had been targeting) with the 27th, I may have thought differently, but as it stood, he was gone by that time. Maybe having missed Pickard and knowing they could likely get potential sleeper defensive prospect Marc Andre Bourdon (QMJHL D man of the year) and a goalie prospect (Jacob DeSerres) later on, they felt they could deal the 1st for Eminger to get some immediate help on the blueline, as opposed to having to wait a few years for a pick to develop or to paying through the nose in free agency.
At the time of the 27th pick I was hoping the Flyers would take John Carlson a decent defensive prospect form the USHL or a good looking Swedish goalie prospect Jacob Markstrom. But when I look at it, the D men they did draft, Sbisa and Bourdon, join what is rounding out to be a pretty nice crop of defensive prospects the Flyers have (Marshall, Ratchuk, Bartulis, Bodrov, Anderson, Parent, Lehtivouri etc.)...and goalies, well, they are probably the toughest to gauge when it comes to drafting, so Markstrom was no shoe in...so, I'm ok with the deal conceptually.
So what did the Flyers get here in Eminger?
Well, in researching the player I found that he had a pretty impressive junior career, putting up big points while playing for the OHL's Kitchener Rangers. He averaged
almost a point per game
during his last two years with the team and helped them win a Memorial Cup. With those kind of numbers I can see why he was considered one of the top defensive prospects in his draft year. He was drafted 12th overall in 2002, the fifth D man selected behind Bouwmeester, Pitkanen, Whitney, and Ballard. Decent company. He was also on the 2003 Canadian WJC team with guys like Upshall, Lupul, Roy, and MA Fleury.
Eminger's pro career seems to have had its ups and downs, with flashes of top four potential mixed with stretches of so-so play during his time with both the Caps and their Portland AHL affiliate (where he was an all-star). Eminger saw his first action playing with the Caps at age nineteen, young for any player by NHL standards, let alone for a D man (as it's known D men take longer to develop and adapt to the NHL game). He split time between the Caps and the AHL for a few years and got a full time spot with the big club as a 22 yr old in 2005. Most 22/23 year old D men, even those drafted in the 1st round, aren't ready to take on a top four role in the NHL. The struggling Caps teams of that time pressed him into service with various pairings. At times he showed all signs of being worthy of his draft position, at other times he made some obvious errors that served to raise doubt. I believe that, considering his age, you have to allow for mistakes. A player's development in the NHL is rarely linear in nature. Ups and downs, flashes of billiance and then setbacks are the norm. Many legit top four D men took more than a few years before they were developed, refined and experienced enough to assume that role. Concluding a player like Eminger is a bust (of sorts), at age 24, seems to be jumping the gun. Most D men tend to come into their own with a more complete and consistent game closer to the ages of 26-29...there's still time for Steve to show he can make the leap.
Eminger only played 20 games this regular season. He was nursing an ankle injury going into the season and when he came back in November he was no longer played regularly. There wasn't much explanation, but guys like Poti, Green, Pothier and Morrisonn got the top four minutes and guys like, Schultz, Jurcina and Erskine usuallly filled out the rest. Eminger was frustrated at his back seat status and was quoted at the time, as saying: "If I've done something, I would like to be confronted about it," "If it's my work ethic or something, someone should come up to me and say, 'Hey, that's the problem.' But I don't think that's the problem." As well as: "It's past frustrating," "It's just a matter of them putting me in the lineup, and putting me in there for more than one game, or moving me to somewhere I'm going to play. Because clearly I'm not in their plans." "I like this team, I like everything about these guys," "The organization has been good to me. We're closing in on 20 games, and I'm not playing and I'm 24 years old. Do I need a new start somewhere? I need a start anywhere, whether it's here or somewhere else."
Had the organization given up on him? Did this situation lead to a rift with the coaches? It's a bit of a mystery as to why he fell out of favor.
As it turns out, Eminger was thrust back into a high profile role in the playoffs when injuries to Schultz and Morrisonn forced him into action. Eminger seemed to rise to the occasion and reportedly put in a pretty solid showing.
I decided I needed to see for myself. I recalled that I still had the Washington/Flyers playoff series saved on my DVR. I figured this was as good a time as any to take a look at what was a very entertaining game seven, which was Eminger's most recent NHL game, to see if I could get a better idea of what the Flyers have done here with this move. I proceeded to watch the game, focusing very closely on Steve Eminger whenever he was on the ice.
What I saw in Eminger in that game, surprised me.
The player I saw was nothing like the marginal D man I had heard people describe him as...no...the player I saw looked to me to be a pretty damn solid second pairing D man, playing the game, a huge game at that, very well. The player I saw put guys like Richards, Lupul, and Hartnell on their asses (Hartnell twice)..... the player I saw outskated the speedy Scottie Upshall in a race to a loose puck. The player I saw made good first passes to start the breakout. The player I saw payed the price to hold position and make plays under threat of being hit...the player I saw was very solid on his skates...would-be checkers seemed to always get the worst of it when trying to hit the 6' 2" 217 lb player. The player I saw did a fine job on right point (ev strength), receiving passes and keeping the puck in the attack zone, either distributing it deep to teammates or taking the opportunity to shoot his decent looking right handed shot. The player I saw challenged attackers with a combination of solid positioning, good stickwork, and, when necessary, a physical edge. The player I saw displayed very good mobility, effortlessly switching from forward to backward skating, closing the gap on D when appropriate. The player I saw, when the play was deep in his own zone, guarded the area in front of the net well and nailed some people who got too close, breaking up plays and clearing the zone.
The player I saw, played critical minutes in a game seven and did very well in them.
I know it's only one game I scouted here...but it was his most recent game, and a very big one at that, so, I think it's a pretty fair gauge, at least to get a first impression about him. If the player I saw in the #44 Caps jersey in that game seven was indeed Steve Eminger, I think we did ok, possibly a lot better than ok in this trade.
On the low side of the range I think the Flyers, in Steve Eminger, got a quality, young, RH shooting, third pairing D man who can spot in a second pairing role in a pinch...a player with decent size, a solid set of defensive tools and offensive upside...this is an upgrade to Kukkonen or Jones.
On the higher end, maybe, just maybe, Holmgren and co. pulled off another Braydon Coburn type move, snatching away one of a team's top young defensive prospects just before he's ready to blossom into a legitimate top four guy. Coburn paid his dues coming up in the Atlanta organization and it's the Flyers who are now reaping the rewards. Eminger paid his dues in the Caps organization and maybe once again it's the Flyers who get to enjoy the payoff here.
Eminger could very well emerge as a top four D man who brings a strong two-way game with a bit of an edge...at 24, he's still kind of young by D man standards, so I'm not sure he's quite ready for prime time yet, but given what I saw from him, I think he likely has that potential...maybe he just needs an opportunity to show it.
It's too early to tell, but If I had to bet, I'd wager that this move works out pretty well for the Flyers. If I'm Homer, unless I can get someone obviously superior, I would like to get Eminger signed to a 3-4 year deal at what should be a relatively low figure. ($1-2 mil per) and call it a bargain.