For more on Flyers Prosects, follow @FlyerProspects on Twitter
https://twitter.com/FlyerProspects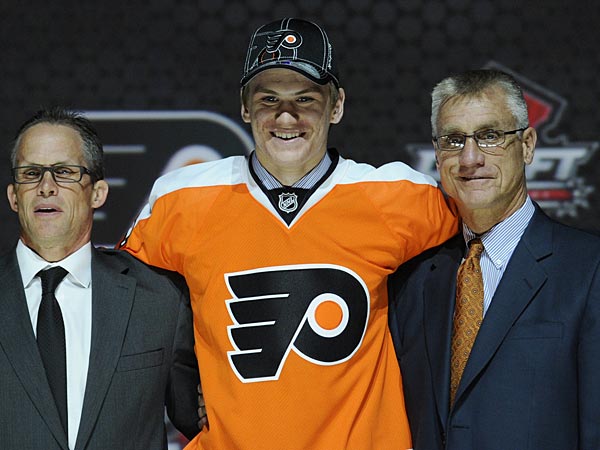 1st Round, Pick #11- D, Samuel Morin, Rimouski, QMJHL
With the 11th overall pick the Flyers selected Samuel Morin from Rimouski. Morin is a big defender at 6'6 205, who climbed his way up the rankings after a good season in the Q and an impressive U18 tournament, where he won gold with Canada. The thing that is most intriguing about Morin is his mobility. Morin moves very well for a player of his size. He also plays a very physical game, throwing big hits, fighting, and winning 1 on 1 battles. His offensive game needs work, but he has shown progress, scoring 7 points in 6 playoffs games after returning from injury. Some don't like the pick at number 11, but Morin has a lot of potential and if he develops, he will be a force in the NHL.
2nd Round, Pick #41- D, Robert Hagg, MoDo, SHL
Projected as a 1st round pick, the Flyers may have gotten a steal when they picked Hagg with their 2nd rounder. Hagg spent most of last season playing with MoDo's U20 team, but did get some time in Elitserien. He was very impressive as a last minute roster addition in the WJC, where he was matched up with opposing teams' top lines. Hagg is a two way defenseman, he is very skilled offensively and able to play the powerplay, but can also shut down opposing players. The one thing scouts say Hagg lacks is consistency. His play is up and down at times, but he is a very skilled defenseman and is probably closer to the NHL than Morin at this point.
Joe Mahon vs Tyrell Goulbourne Feb 8, 2013:
http://www.youtube.com/wa...h?&v=VIr_kMM8Sis
3rd Round, Pick #72- C, Tyrell Goulbourne, Kelowna, WHL
Holmgren and the Flyers staff have taken a lot of flack for this pick, mostly for going with an agitator in the 3rd round. Goulbourne is an energy guy, fast skater, throws hits, and can fight. He has already been dubbed Zac Rinaldo 2.0 and it looks like he is deserving of that title. In Februrary of last season he managed to take down an opponent 6 inches taller than him. The reason people criticize this pick is because there is a consensus that he would have been available later in the draft. But who actually knows, the Flyers may have heard something and decided that it was the right time. Only time will tell if Goulbourne is a bust, but if he can develop into a full time 4th liner/fringe 3rd liner, it isn't a bad pick in my book.
5th Round, Pick #132- D, Terrance Amorosa, Holderness School, USHS-NH
There is not much info out there on Terrance Amorosa, but as it is with all late picks, he will be a project. According to his interview at the draft, Amorosa had a growth spurt 3-4 years ago, growing 6 inches. This was a big factor in him flying under the radar of major junior leagues. Amorosa is now at a good size at 6'2, 190. According to HockeyProspect.com, he is a big kid who struggles in his own zone with coverages. Amorosa will play for Sioux Falls of the USHL next season and will likely go down the collegiate path in the future.
6th Round, Pick #162- G, Merrick Madsen, Proctor Academy, USHS-NH
The Flyers selected goaltender Merrick Madsen of Proctor in the 6th round. Madsen, a California native, stands tall in net at 6 foot 4. It seems the Flyers have favored big, athletic goalies in the draft over the last couple of years (see Anthony Stolarz) and it may be paying off as Stolarz looks like a blue chip prospect. Madsen is a very raw player, but with his athleticism, size and wingspan, he may have a shot to develop into a decent pro goalie one day. Madsen will play for Des Moines in the USHL next season, before heading to Harvard.
Round 7, Pick #192- D, David Drake, Des Moines, USHL
Continuing the trend of stocking up on D-men in this draft, the Flyers selected David Drake from Des Moines of the USHL. Drake is listed at 6'3, 155, which means he will have to hit the gym and his local McDonald's for the next few years if he wants to play at a high level. Drake suited up in 12 games for the Des Moines Buccaneers last season, scoring 1 goal and finishing at -12. Obviously Drake has a lot of work to do, but so does every other 7th round pick.
Overall I give the Flyers a
B-
on this years draft. I really like the Morin pick and am a HUGE fan of grabbing Hagg in the 2nd round. Like others I'm not so high on the Goulbourne selection, but I won't pretend I've actually seen him play, so we'll see how his development goes. The rest of the draft is sort of a crapshoot but it looks like the Flyers got some decent project prospects. We will see how these prospects develop and be able to make a better judgement of Holmgren and Company's decisions in the future.
http://flyersprospects.blogspot.com/