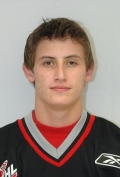 First and foremost, I know this is an incredibly long article, but I hope you take the time to read it, as it is perhaps one of the best hockey stories ever. I know I haven't been writing a lot these past couple weeks, and I apologize. I've been busy with class, and trying to peruse my education. I finally have had some spare time to write a little bit of a blog, and it's something important that I think people should read and learn from.
This is something that really hit me, I don't know nor have never met Garrett Robinson as many of you probably have never heard of this young, inspiring and incredible person that he, and his family are. Garrett, 19, a native of Surrey, BC plays for the Moose Jaw Warriors of the WHL. The story I am about to tell you is entirely true, and quite remarkable. Garrett, and two teammates Carter Smith and Joey Perricone we're driving home after returning home from a road trip in Red Deer, AB the team returned in Moose Jaw around 6 am local time. General Manager of the Warriors, Chad Lang said the three players had unloaded their gear and were driving back to their billets when a Ford truck hit their car.
Robinson, who was a passenger in the drivers side of the car was hit head on. The jaws of life had to be used to free all of them from the car. Joey Perricone, a 19-year-old goalie from San Juan Capistrano, Calif., and 18-year-old forward Carter Smith of Eyebrow, Sask. -- were treated for minor injuries and released. Garrett was pronounced to have suffered severe head trauma and was in coma and was said to only live for 48 hours. This all brought back memories from 1986 when the Swift Current Broncos bus swerved off the road killing 4 players, Trent Kresse, Scott Kruger, Chris Mantyka and Brent Ruff.
The Four Bronco's shoulder patch, that will forever be worn on the Swift Current Broncos shoulder, the numbers of the 4 players killed.
Soon after the accident was reported, the Warriors set up the Garrett Robinson Recovery Fund to help his family deal with the financial obligations. So far, contributions have come from across the country as well as from the National Hockey League. Curtis Jay Mullen, 23, has been charged with impaired driving causing bodily harm, dangerous driving causing bodily harm and driving with a blood alcohol level over 0.08. He allegedly drove the pickup truck that slammed into the car occupied by Perricone, Smith and Robinson. (Mullen only served 9 months)
Garrett's condition dramatically improved, as he awoke from coma and began speaking. Garrett was moved from the Royal Columbia to G. F. Strong Rehabilitation hospital. He has shown great progress in his rehabilitation. Garrett is walking now without having to use any walking devices and has stopped using a cane. He has had the wires removed from his broken jaw and is now starting to eat solid foods.
Garrett has a very busy schedule every day at G. F. Strong. Garrett's day starts with O.T., then speech class, followed by school classes. He breaks for lunch then onto physiotherapy class and pool or weight room. Garrett talks about hopefully starting to skate soon but that will not be for awhile. Garrett is determined to be playing next year for the Warriors.
(Below is a press release, on August 25th 2007)
MOOSE JAW -- Garrett Robinson's good spirits could have blown the roof off the Crushed Can.
The smile on Robinson's face was evident from the seats at the Moose Jaw Civic Centre on Friday as he skated for first time as a Moose Jaw Warrior since a two-vehicle accident on Oct. 22. Robinson, who was seriously injured in the crash hours after the Warriors had returned home from an Alberta road trip, took a victory lap around the ice before shooting a few pucks and sharing some laughs with teammates.
"The skating came naturally and that was the easiest part,'' Robinson, 19, said during a 45-minute media conference after skating with the WHL team. "My hands felt awkward. I still need to work on my stickhandling and shooting. I was just happy to be out there.''
It's amazing that Robinson was on hand as the Warriors opened training camp. He was in the passenger seat of a car driven by former teammate Carter Smith, with Warriors goalie Joey Perricone in the back seat. The car was broadsided by a truck at a Moose Jaw intersection.
Robinson's teammates suffered minor injuries. The driver of the truck -- 23-year-old Curtis Mullen -- wasn't injured. He was found guilty of dangerous driving causing bodily harm and sentenced to nine months in jail.
Robinson was in a coma for several weeks after the crash and was initially given 48 hours to live. He started communicating verbally in November and walking on his own just before Christmas. On Friday, his recovery reached the remarkable stage as he skated with his teammates.
"Every hospital that we've been in and every member of the staff have been truly amazed,'' said Carol Robinson, Garrett's mother. "It is a miracle that he has come as far as he has in such a short time. He has worked so hard but he's determined to get back to the way he was.''
The Robinson's were informed by doctors that Garrett suffered permanent damage to front and middle lobes and the brain stem. They were also told that the damage to the brainstem will never heal.
It's unlikely that Robinson will play contact hockey again. He will remain with the Warriors for the remainder of the year.
"I just want to be around the team as much as I can,'' said Robinson, who has been skating twice a week with his brother -- former Regina Pats forward Matt Robinson -- before taking to the ice Friday. "If I can't play with the team, at least I can show them what hard work can do. I want to be with the Warriors, help them out and be the Warrior that I am.''
It's that kind of attitude that Chad Lang, the Warriors general manager, hopes rubs off Robinson and on his teammates.
"My expectations were to always have him back here,'' Lang said. "He's a member of this hockey club and he's a true testament of what the Warriors are about. He has battled the odds but he has never given up the fight. There are people who might have written him off but he didn't give up.''
Robinson, a native of Surrey, B.C., has been with the Warriors since he was 15. Randy, Garrett's father, said the emotions he felt this week when he dropped his son off at the billet were similar to those during his son's rookie season with the Warriors.
"It was very emotional to leave my baby,'' said Randy Robinson, who with his wife has been with Garrett nearly non-stop since the accident. "When I dropped him off at the billets, I wondered if we doing the right thing.''
Robinson's reaction to the crash concerns his parents. Robinson still suffers memory lapses, his fine motor skills are still lacking and he slurs his words. Some of those concerns have been alleviated by leaving Garrett with the same billet (Shauna Duzan) and the commitment of the Warriors' organization.
The Robinson's are scheduled to return home Sunday. Garrett will remain in Moose Jaw with his team.
"We have no fear of leaving him here because we know that they will look after him very well,'' Randy Robinson said. "We've set up meetings with occupational therapy and the speech people. They are coming from Regina to meet us. Everything has fallen into place and he's so happy to be here. That makes us happy, too.''
I thought it was important to share this story with everybody, and show the world how remarkable Garrett is, and how great of an organization the Moose Jaw Warriors are and their GM Chad Lang. Perhaps Garrett will never play another game in the WHL, perhaps he will never play the game he loves on ice ever again. But what this amazing person has been through, and fought through it's inspirational and I wish Garrett the best. I wish I could have seen him play this year, being from Brandon, Moose Jaw is here 6 times a year. I hope I have the opportunity to meet him this year, and tell him how inspirational he was and give him best wishes. This story broke my heart, when I woke up that morning and read it. I believe this is a story about courage, strength, and a miracle from above. Best wishes to Garrett, and the Warriors this season.
(Note: Information taking from various sources, CTV & Moose Jaw Warriors website)