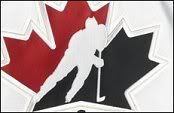 It's their final exhibition matchup of the pre-tournament and Canada looks to apply the same pressure they've produced in their first two meetings. Sunday night's game against Finland showed that this team can in fact change on the fly, and I'm not talking about the lines.
Canada's game against Finland was a necessary test and they are lucky to have faced it early. Although not a favorite to win gold, the Fins provided a pure shut down game that the Canadians struggled early to crack. They switched from a puck leading charge, usually lead by Tavares, Hodgson or Subban, to a dump and chase method. They even altered their cross crease passes to a crash and bang garbage goal tactic, and it paid off. The final score hit 7-3 and if it weren't for Juha Metsola, Finland's goaltender, the score could have easily hit double digits. But we shouldn't forget that the game was 1-1 after the first period and didn't seem to be leaning towards an offensive explosion by the Canadians. It was perseverance and trust that got them through it. Trust in the system, and trust in themselves. It had a much bigger feel than just an exhibition game, and Canada was truly tested, perhaps even more so than their game against Sweden last Friday night. Finland had Canada back on their heels, while Sweden's only major contribution to the game was Hedman's show of brilliance in the final few minutes, albeit the Swedish team wasn't playing their full grade A roster.
Tonight's game won't attract as much attention as the first two, but it is still a test that is necessary for the Canadians to overcome once again. The test being a matchup against one of the bottom teams heading into the tournament. I want to emphasize "bottom team". These are two words that have plagued Canadian hockey over the last decade. This game won't have any bearing on the standings or the tournament itself, but if the Canadians come out underestimating their opponents it would resemble the 2006 Canadian Men's Olympic Team against Team Switzerland, or even the 1998 Olympic team against, well, anyone except Japan (although this World Junior squad could not do anything to compare to the 1998 U.S. Olympic team's frustrated defeat; that was possibly an understatement). Canada's World Junior squad has just come off back to back exhibition victories over partnering favorites team Sweden, and the shut down genius of Finland. Don't be surprised if they suddenly fall to Slovakia because unlike Canada's "strive for five", the Slovaks have nothing, and I mean "nothing", to lose. It's what makes these tournaments so unpredictable and exciting. Every team has a chance and one game can make all the difference.
Evander Kane is expected to make his debut tonight in the red and white and it will be interesting to see who will be moved in order to find him a place in the top 3 lines. It's possible Chris DiDomenico will be adjusted to the bottom two lines despite improving his play in Sunday night's game, but I for one would love to see Kane join John Tavares and Jamie Benn on the second line. Regardless, it will be an interesting game to watch. This tournament is all about skill and character, and while every team has their skill, it's the character of the players that make the difference.
***
I just finished watching the TSN.ca recap of Canada's 4 straight tournament victories and after seeing some highlights of Luc Bourdon my memory was immediately sparked as to the type of player both he and Cherepanov were for their respected countries in the events. I felt Luc was a major factor in Canada's 2006 win and it got me thinking. It isn't always the big name players that get it done for teams, even last year the overtime winner was scored by Devils' prospect Matt Halischuk. Even if it wasn't a member of team Canada, who did you feel stood out as a tournament difference maker over the years?
I can recall in 1995 when Bryan McCabe was a pure point machine along with Jason Allison as the Canadians went on to capture their third straight gold. I used to listen to the games over a radio in my bedroom with my brother. It was exciting imagining the game and us pretending it was the 1940s. In 1997, Canada was backstopped by Marc Denis who posted a 1.67 save percentage in the tournament and featured the likes of Joe Thornton and Daniel Briere up front. The gold medal hero, of all people, was in fact Boyd Devereaux. Not too shabby.
What were your favorite tournament moments?
Micheal A. Aldred
[email]
[email protected]
[/email]