With the signing of Sean Avery today, is it the end of shopping season for the New York Rangers? The scary part of this offseason is that Rangers went back to their spending ways, but when you realize what they were able to bring back it's not as bad as it seems. Scott Gomez and Chris Drury are upgrades over Michael Nylander and Matt Cullen. You have to love that the Rangers got younger and now boast one of the best 1,2 punches at center in the entire league. Two questions remain however, will Jaromir Jagr gel with Gomez the way he did with Nylander and will Jagr not being the highest paid Ranger anymore hurt is ego (yes technically he's still the highest paid, with the Caps splitting the bill)?
They still have to rid themselves of really bad contracts like Marek Malik and Darius Kasperitis. Dumping their salaries and rosters spots will make room for guys like Marc Staal and Tomas Pock who are much more deserving. It will also frees up some cap space when they have to negotiate long term deals some time in January for Henrik Lundqvist and Sean Avery.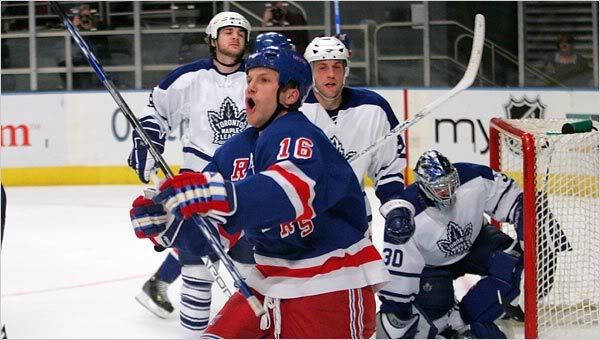 On the subject of Avery, sure he leaked information to the New York Post about the arbitration hearing and that doesn't necessarily make him a bad guy. I think Avery who quickly became a fan favorite last season was a little shocked when he was told in arbitration that he was a detriment to the team. No player is ever really ready for the arbitration process. It pits the organization vs. the player and although players get signed this way, it often leaves a bad taste in their mouths come contract time, but what were the Rangers going to do? Avery is a third line player, can any team really afford to pay him the 2.6 million per season he was asking? If Avery goes out and has a 25 goal season and plays with the same intensity he did during the second half of the season with the Rangers, I will eat my words and he deserves whatever he has coming to him. But before Avery can ask for 2.6 million he as to prove he can get it done for more than five months.
There will be one last rush of free agent signings before training camp starts in late August, but should the Rangers be involved. New York still has three needs, a back up goaltender, blueline help and a 3rd line center. Without tapping the free agent market the Rangers have help on the way. The team is banking on Marc Staal to emerge out of training camp with Michael Sauer in tow. I get the feeling Staal is a lock to make the team if the Rangers are struggling for some punch on powerplays look for them to call up Sauer. He'll spend this season in the AHL instead of going back to the WHL.
Free Agent option: Danny Markov.
At center it's a three way battle, but it really depends on what the Rangers are looking for. If they're looking for scoring, Brandon Dubinsky is their best developed prospect to do so. Artem Anisimov has a lot of talent, but might need another season with Hartford before he can be taken seriously. That leaves Tom Pyatt. Even though he scored 43 goals in 58 games last season for Saginow in the OHL, he's more of a gritty player than a scorer. He might be a surprise in camp and steal a spot with a strong preseason.
Free Agent Option: Michael Peca
I think all Rangers fans would be okay with Henrik Lundqvist playing 70 games this season and he might actually have to. With the departure of Kevin Weekes to the Devils, the Rangers are actually thin in goal. Their current backup is Stephan Valiquette, but the organization is hoping that Chris Holt who spent last season going back and forth between Hartford and Charlotte (ECHL) will step up and take the backup role. Holt has showed signs of being an NHLer and has a leg up over Al Montoya. The Rangers don't want Montoya backing anyone up, he'd be better suited starting in Hartford and being called up to start if Lundqvist suffered an injury.
Free Agent Option: David Aebischer
So maybe shopping season is over for the Rangers. Over the last two seasons they have gone into their system to fill spots, maybe that's the answer again rather going back to their old ways and finding a 33 year old free agent.