The Dustin Penner offer sheet is proof Kevin Lowe should step down from his post as General Manager of the Edmonton Oilers. As a GM you are supposed to
improve your team while securing the future of the franchise. While Penner will only be 25 by the start of the season, Lowe not only sacrificed three future draft picks, but also decided to take up valuable salary cap space for a player who has been in the NHL less than two seasons and has yet to really prove himself.
Kevin Lowe is the product of a championship tradition. He knows better than anyone else how Edmonton built their dynasty in the 1980s. They built from the ground up and developed some of the most talented players ever to play in the NHL. For those of you that need a reminder, Wayne Gretzky, Mark Messier, Paul Coffey, Glen Anderson, Jari Kurri, Grant Fuhr, Andy Moog, oh yeah and Kevin Lowe. Shall I go on?
It stuns me when a team spends way more than a player is worth just because they are desperate (Rangers being the exception because they don't surprise anyone with their moves). Let's just take a comparable player, with the same situation. Same experience, same amount of playing time and the same value to a team.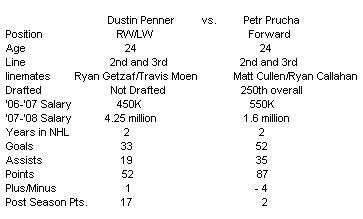 Prucha leads in almost every statistical category except for playoff points. He has played with lesser talent and both potentially have the same expectations going forward. Both the Rangers and Edmonton are banking on these two players to average 30 goals a season for the next 4 years. Only Lowe's desperation made him pay a marginal player, who has yet to prove himself over a longer period of time, money a 6 year veteran should be getting after putting together back to back all-star seasons.
When you look at this deal, where does it make sense for Edmonton. Ask any GM in the league if they would trade 1st, 2nd and 3rd round draft picks for Dustin Penner or even Petr Prucha who is statistically better and has the same career potential. You won't find any takers that would give up that much for a guy who has scored 29 goals, once.
The offer sheet proves Lowe has lost the ability to compete as a GM in the NHL. This is coming from someone who has been a fan of Lowe both as a player and executive in the past. I pull for good guys like Lowe because they have won their whole career and know how to win, but its clear when someone makes a move like this he is disregarding everything he has stood for and his franchise stands for. Lowe should be concentrating on how to keep his own players and paying them to stay, instead of offering outlandish salaries to restricted free agents. If he's willing to pay over 4 million dollars per season to Penner why would he not pay over 6 million dollars for Ryan Smyth, who is not only is an established goal scorer, but was a leader on the Edmonton squad. What will his future unrestricted players say when its contract time. Any one of his players who puts out a strong 30 goal campaign will be asking for over 4 million, and when they don't get it, can you blame them for leaving?
Sure he's playing by the rules, but even a smart exec like Lowe knows he just drove up the price on middle of the road players. Not only did he hurt the future of the league, but more importantly for himself, he damaged the future of the Edmonton Oilers.