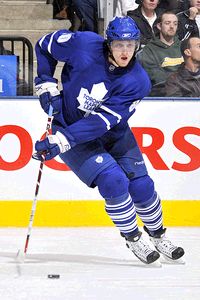 The Leafs and Nik Antropov head into the All-star break in a pretty big slump.
Good thing? Depends on what you think of tanking, but is it a bad thing? No.
Today we are a lot closer to having a successful rebuild then we were a few short weeks into the season. A high 1st round pick in this draft is
SO
essential to our rebuild.
Many of us were hyped up over the Leafs overachieving, and in the back of our minds, we asked ourselves, could this team really surprise critics this season? Well the answer is clearly no.
So many factors come into play when considering this team's disappointing play as of late - namely our goaltending which has been abysmal, and now it's looks like Burke is prepared to ride off this season, as he should, and take in the rewards of a high draft pick.
Burke said it best when he said a team should be moving up rapidly or moving down rapidly, mediocrity will get you nowhere, and as it stands we're closer to moving down than up. Meaning Burke is likely selling at deadline.
Among the assets that he'll be able to move is Nik Antropov. A career Maple Leaf, who is known to be very proud to be a member of this team, might find himself being moved out by March. When he was drafted 10th overall in the 1998 NHL entry draft many thought that he would be the future 1st line centre of the team - the eventual replacement for Mats Sundin. His early career was hampered with injuries, and he was having trouble putting together healthy seasons.
The 28 year old Kazakh had a breakout season last year after John Ferguson signed Antropov to a very nice 2.15, two year deal(definitely one of his more smarter decisions). To any team that wants him he could be a very valuable addition. Possessing such a large frame he \effectively uses that to his advantage, he's plays physically, and is able to play LW, C, and RW. Not only that, he's known to be a bit of a leader on the ice.
Now as we head towards July, and him still being a pending UFA, his name is starting to pop up in trade rumours. The thing is, his play of the last few months has been off and he certainly can't be helping his trade value. Antropov heads into the allstar break goalless in his last FIFTEEN games.
FIFTEEN
games, that's a heck of a drought. His plus/minus is also down from the comfortable plus ten he had last season, to a minus eleven.
What's changed? Well his production has taken a HUGE hit since Burke took over, maybe it's the insecurity of his future in the Blue and White, that's bothering his mind? Well either way, that's not an excuse because right now he's not impressing his new boss.
Coming into trade deadline he's arguably the best forward available. Gaborik is on IR and Kovalchuk has recently been given the captaincy of the Thrashers, so regardless of his slowdown since Burke's arrival, Antropov could attract an unexpectedly large return.
We're talking 1st round pick
PLUS
.
He was connected with the Columbus Bluejackets a few weeks ago, when they were supposedly looking for a new home for their (former) number one goalie Pascal LeClaire. But since then LeClaire's been put on IR, since he's having season ending Ankle surgery.
But I don't think LeClaire would have been the answer to our goaltending issues either way. He's a reasonable young age of 26, has a lot of talent, former 1st round pick, but what really concerns me are his injury concerns. He appeared to have put that injury riddled past behind him last season, when he emerged as a solid number one goalie putting up a ridiculous amount of shutouts, but just as quickly as he took that spot, he had that spot taken from him.
Twenty Year old Steve Mason has taken the NHL by storm by putting up insane numbers, shutting multiple team out, and is believed to be the leading candidate for the Calder Cup. What we need is a Steve Mason-type performance from Justin Pogge. He needs to come in and take the bull by the horns. Trading for LeClaire wouldn't have solved anything, I'd look for younger players and picks in return for Antropov instead.
Columbus could still potentially be a good place for Antropov, as Rick Nash still needs a centre. In Burke's shoes I would take just their 1st round pick for him, thinking that would be enough. A 1st from a playoff bubble team, could really do us some good, if it was around the 14th, 15th, 16th region we could come out with a good tough powerforward like Holland or Kassian. Or if Burke really does want to build from the net out we could select Simon Despres who went 1st overall in the QMJHL draft. Scouts say the 6'4, 214 pound defenseman
"will be looked upon more for his shutdown ability over his offensive prowess,"
but he is known to be a quality puck-moving defenseman. He's a solid two-way threat, who can use his size to his advantage, and he possesses good hockey smarts. Sounds like a player that Burke would like, eh?
Either way a single 1st round pick for Antropov would leave Brian Burke with plenty of choices. That 1st round pick would come at the cost of our
"only top six forward"
but these are the hard decisions that have to be made by a Manager that's rebuilding. Whether we takes a powerforward, or a two way defenseman, trading Antropov would mean a huge step forward for this team.
It might seem like we're getting ahead of ourselves but that's what's fun about it, exciting times to be a Leafs fan. In the end, considering Antropov's trade value and his disappointing play since Burke's arrival I think he will be wearing a different jersey come March.