Are Blues fans and the Blues organization read to put a lot of faith in Jake Allen to take the reins and try and lead the team to the holy grail?
Allen has been paying his dues in the AHL since 2010 while enjoying a successful February 2013 with the Blues. He's been a good organizational team player and seems ready to be given a bigger opportunity. I hope he is able to make the most of it though I have some concerns.
When I look at Allen and his production, I see a number of things that suggest red flags. Many people will point to his brief stint with the Blues in 2013 and how he injected life into the team and helped steady the ship. When you look more closely at his NHL body of work and get past his save of the year, some things really concern me. Did you know?
1) His January and March save percentages were both under 90% which brought his entire save percentage down to 90.5% putting him behind all of Brian Elliott's seasons with the Blues and all but one of Jaroslav Halak's seasons with the Blues.
2) His goals against average was higher than both those of Halak and Elliott.
3) The Blues lost 4 of his last 5 games played during which he had a terrible 85.7% save percentage.
4) The Blues averaged 10% more goals scored in Allen's starts.
5) The Blues scored almost 4 goals per game in his wins while averaging only 2.7 goals per game for the year.
6) His 9 wins (4 in extra time) and 6 losses would have put the team on a 98 point pace for a full season, under their 102.5 pace for the season and what would be the lowest point total since they missed the playoffs in the 2010-11 season.
When you consider that data, it is easy to see why the Blues gave him another year in the AHL. To his credit, he took the challenge and posted his best professional season with a 92.8% save percentage, a stingy 2.03 goals against average and 11 shutouts. Unfortunately, when it matters the most, the wheels appear to have come off Allen's cart. His goals against average bloated more than 50% to 3.29 and his save percentage fell to 87.9%. Of course, I realize a goalie is generally only as good as the team in front of him but Allen's historical data suggests that he regresses when it matters the most.rnrnDoes it concern you that in his last two international competition games he has a goals against average over 7.00 and a save percentage that is barely above 80%?
Does it concern you that not only this year but in every year since 2008, Allen's save percentage and goals against average have been worse in the playoffs than in the regular season. His save percentage decrease ranges from 2% to 5% (gross) while his goals against average increases anywhere from 0.3 to 1.3. Again, his statistics are worse in EVERY year since 2007-08.
For comparative purposes, I looked at the AHL history of Rask, Quick, Crawford, Price and Lehtonen. In their nine playoff years, only one time did someone have a worse goals against average. Their save percentage was worse two times but one of those had a very minimal decrease with a save percentage of 91%. Their nine playoff years saw a simple, non-weighted increase in save percentage of 1.2% and a lowering of their goals against average of 0.33. In comparison, Allen has a simple, non-weighted decrease in save percentage of 3.5% and a 0.91 increase in his goals against average.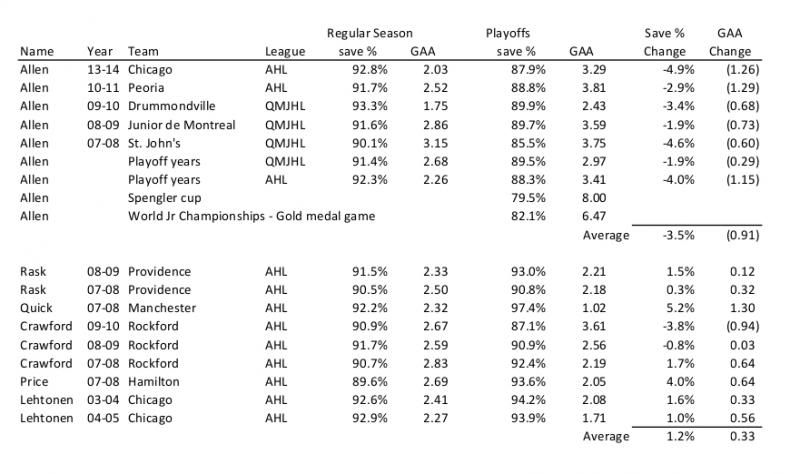 We all know how important it is for goalies to elevate their game in the playoffs, something Allen has been unable to do so far in his professional career. Will history continue to repeat itself? Blues fans are hoping that he will be able to reverse that trend. If he doesn't and is given the playoff reins, it will be another short spring for the Blues and a long summer for their fans.
It's a great day for hockey, I just wish the Blues had a game Sunday.