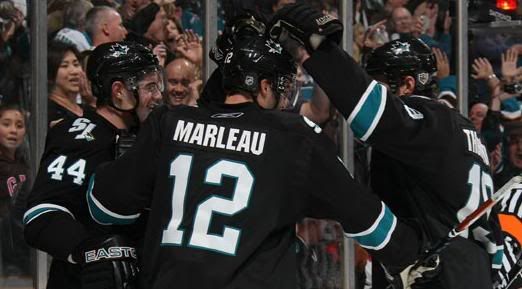 (Photo Courtesy mapleleafs.nhl.com)
December 3, 2008
By Jon Cunningham
"Wow"
That was the word constantly coming to my mind as I sit watching the Sharks take on my Maple Leafs. I have never seen a team that is more complete then this years edition of the Sharks from San Jose. As a fan in the Eastern part of the Nation, I very rarely see the Sharks without having to stay up until the wee hours of the morning, but tonight's game was well worth it, even as I Leafs fan, I will go to bed thinking I just witnessed one of the most dominating teams of my so-far short life.
Right from the get go, even before the puck drop, I knew the Leafs would be in for a tough game, and I was not expecting a win, however, I was not expecting to see what I saw from the boys in Black and Teal.
It was pure magic on ice, beautiful, crisp, tape to tape passes. Some of the best cycling I've ever seen in a hockey game. A forward unit and powerplay that found passing lanes anywhere, and make scoring chances come from anywhere on the ice. A penalty killing unit, that would put pressure on the Leafs PP, but wouldn't make mistakes or get out of position. A defence corps that, more often then not, would beat you out of the corners with the puck, and still be able to jump into the play in the offensive zone and keep plays alive with huge plays at the blueline. A goaltender, who on this night didn't need to be spectacular, but has been on so many nights. If you notice, I didn't mention any players specifically (Nabokov not included), its because the Sharks play a perfect team game and there aren't any individuals on that team who try to do everything themselves.
I'm not saying that the Leafs played badly, as a matter of fact, I thought they played rather well, given the circumstances. However, the talent of the Sharks was just way to much for the Leafs to match. As a Leafs fan, I obviously didn't enjoy the outcome of the game, but as a hockey fan, I had a lot of fun watching the Sharks put on a show tonight.
I for one, will be watching a lot more of this team from the Silicone Valley.
Jon Cunningham
Toskala35
[email]
[email protected]
[/email]
(I always encourage feedback, positive or negative as I like to know what people think about what I'm writing)