It is the time of year to give and receive gifts from friends, relatives, and Santa. It is no exception for NHL teams. The following provides the wish lists that all 30 NHL teams have given Santa.
Anaheim:
Where to begin here? Anaheim is going to have an Eric Cartman sized Xmas list this year. Getting the RPG line on track, getting Visnovsky in the lineup regularly, getting Selanne, Koivu, and Blake back, and getting Hiller to play at the level he was at in 2010.
Or simply they just need wins so that the Bobby Ryan trade rumors cease and desist. The off season however might be the best gift for the Ducks as they have as much as 19M in cap space to retool the roster. What are Charlie Conway and Adam Banks up to these days?
Boston
: What do you give the kid that has everything already? Perhaps a caller ID for Lucic so he knows when Shanahan is calling? Or better yet another role for Sea Bass in the true sequel that is hopefully going to be made, Dumber and Dumber 2.
Buffalo
: It seems like Santa gives the Sabres the same thing every year, socks. Not good enough to make a run at the Cup, but not bad enough to put themselves in position to draft their franchise center. Mediocre best describes the gift of socks, and it also describes the state of the Sabres.
Santa would be wise bring a GM and coach in his sleigh for the Sabres. The Sabres were given a Gameboy/Game Gear in the late 90's when Ruff and Regier arrived. I think its time for an upgrade; I hear Playstation Vista is coming out soon. At the very least give Darcy the courage to change up the:
Calgary:
A fountain of youth. Lots of money tied up in aging players who may or may not provide a return of proper assets if the Flames even choose to move anyone. Calgary's most useful gift could be some TNT to blow up the roster.
Although the Flames might get the award for the most giving team in the spirit of Christmas as they give no trade clauses out without blinking. The Flames should continue the giving spirit and give Iginla a real shot to win.
Carolina
: A time machine for Eric Staal and Cam Ward to the spring of 2006. Ward needs to reclaim that Conn Smythe form and Staal needs to get it going with the cap hit he has now.
Chicago:
Great team with great players. However Santa could help the Hawks out by giving them a few bottom 6 players in the mold of Penguins/Red Wings players. Sandpaper on a nightly basis with the ability to chip in on the offense. Also consistency to Stalberg's game like what he displayed against Pittsburgh on 12/20.
Colorado:
It's a late present but a muzzle for Petr Stastny. His comments about the Chris Stewart/Erik Johnson trade have done nothing but jump start rumors of his son Paul's departure via trade from Colorado.
Columbus:
The discipline to stop drafting enigmatic Russian forwards in the first round. Their egregiously wrong evaluations of Zherdev and Filatov has set this franchise back and turned Rick Nash into the best player nobody gives a damn about.
Just food for thought but the following players were drafted after Zherdev in the first round of that year: Thomas Vanek, Ryan Suter, Milan Michalek, Dion Phaneuf, Jeff Carter (better late than never!) Dustin Brown, Brent Seabrook, Zach Parise, Ryan Getzlaf, Brent Burns, Ryan Kesler, Mike Richards, and Corey Perry. D'OH! Hopefully Craig Patrick is able to provide some insight in how to right the ship.
Dallas:
Ownership stability. The uncertainty from the ownership position caused them to lose a player like Brad Richards who wanted to stay. The team has been limited in their moves. Luckily some of the chances they have taken have panned out like Sheldon Souray. Although they are probably missing James Neal.
The new owner will have 11M in cap space to work with however. The Stars may have gotten their best present already though, a change in "conference" which will help them with the time zone hell they previously had to deal with being in the Pacific division.
Detroit:
Detroit also got an early present. Their travel schedule just became a lot easier with the new conference changes. Nick Lidstrom signing on for yet another year would also be quite the gift but if not an honest run at Shea Weber would do nicely as well.
Edmonton:
Health for Hemsky and Whitney. But most of all hiring someone in the ilk of Michael Bay to produce a PR video for the city of Edmonton so that they can attract some high quality free agents to play with the young studs.
Florida:
A city that cares.
Los Angeles
: Drew Doughty to regain his form from the 2010 Vancouver Olympics. Dustin Penner a 1 way bus ticket, it can even be to Old Country Buffet if he wants. Lastly give Lombardi the courage to deal one of the goalies to get the Kings some of the offensive zip they thought they were acquiring with that guy who is getting the bus ticket.
Minnesota
: A new PP coach. Just kidding, it is an inside joke to Penguins fans that Mike Yeo ruined the Penguins PP. Although the Wild are only clicking at 14.8% presently.
Montreal:
A new French speaking coach! How else are they going to regain their glory from when there was a 6 team league and when they had the best goalie of all time? Santa needs to get Coach Cunneyworth a new head coaching position in the NHL. He deserves his chance in the NHL lead a team, he deserves better than what he is getting now.
Nashville:
Balls for David Poile to acquire a star forward, the one thing that could probably convince Shea Weber to sign on the dotted line long term. They need to prove to Weber they are serious about contending.
They have 14.6M in cap space right now. That bumps down to 11M after Rinne's raise. Suter could potentially double his salary to 7M in a best case scenario for him. That would drop their cap space to 7.5M, the going rate for a star offensive player. Santa might be finding Poile a new job next year depending on how he handles this very tricky situation with Weber and Suter.
New Jersey:
A new contract for Zach Parise, it is as simple as that. And I know there are some seats available at the Prudential Center, would it be too hard for Santa to give season tickets to this guy?
NYI
: I don't know if Santa's sleigh is big enough but that does not mean he will not try. The Islanders need a new arena deal in the worst way. They also need to contact Bubble Boy's doctors to customize a new bubble for Dipietro.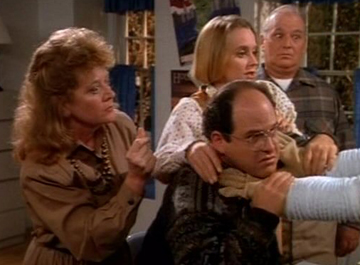 NYR:
Marc Staal to return from his concussion to help shore up their blue line. They have done well without him; with him they will be even better. Also a spot for Grandma Callahan on Tort's staff, it would save him some fines as he wouldn't have to be the one verbally attacking the refs..
Ottawa:
The ability to clone Erik Karlsson.
Philadelphia:
Long term health for both Giroux and Pronger. Two of the best players to watch in the NHL. Pronger may very well be done as far as hockey goes but the Flyers have been hit hard enough by concussions in the past with Lindros, Primeau, and Jones. Hopefully he can live a normal life without Primeau like symptoms.
How about some more car commercials for Talbot!
Lastly, what kind of guy would Santa be if he didn't put some ear plugs in Jagr's stocking for his 12/29 game in Pittsburgh?
Phoenix:
They must have made their list with Florida because they too want a city that cares.
Pittsburgh:
High speed rail train between Pittsburgh and Wilkes Barre/ Scranton that makes daily runs. No team has been hit harder than the Pens with injuries the past year. Santa owes Penguin fans a healthy Penguins roster for the 2012 playoffs. Perhaps a new prototype designed helmet would help with the 9 concussions their players have had:
Simon Despres would like a ladder
Crosby and Letang would like one of these
Dupuis just wants a Xmas card from nh4442
And Geno would like some dancing lessons
http://gifsoup.com/view/3082131/we-win.html
San Jose:
Santa appreciates the giving mood that the Sharks were in this season with this holiday video:
http://www.youtube.com/em...l=1&fs=1&showsear
ch=0&showinfo=1&iv_load_policy=1&wmode=transparent
St. Louis:
They too received their present early in the form of a new coach who has scared the competition stiff.
Tampa Bay
: Santa is giving Tampa Bay an alarm clock. Tampa is classically an area of the country that the elder enjoy. However the Lightning play a style that resembles the speed at which the elderly move and requires the fans to be given that alarm clock so that they do not fall asleep. Also Dwayne Roloson would appreciate the gift as well; he has been getting tired after the early bird specials this year.
Toronto:
All Star votes for James Reimer… I guess Santa is the one that needs a clock; he seems to have come early again. The Leafs would also like the much rumored Komisarek, Finger, and a 3rd round pick for Jordan Staal trade to materialize.
On a serious note, Santa needs to give the Leafs a #1 center and more American players. The Leafs appear to finally be turning a corner and a #1 center would be huge boost to fully turning that corner. The more American players the Leafs add the better their record seems to get *cough Parise cough*.
Santa should also give Brian Burke an extension. The Leafs are slowly but surely playing that North American style again that was gone since the Gary Roberts/ Darcy Tucker days.
Vancouver:
A taker for Luongo's contract and a promotion for Schneider. The cap space would be great for the Canucks and Schneider would do no worse than Luongo in the big moments.
The city would appreciate more police and fire precincts as well.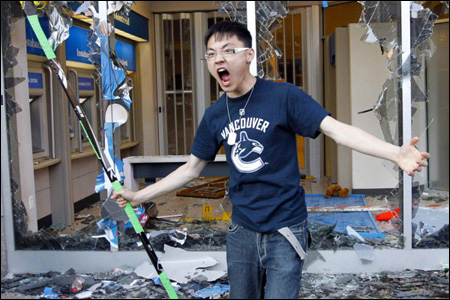 Washington:
Legitimate North American leadership that plays big minutes. Also Semin would like some:
Winnipeg:
Santa saved his biggest present for last. Giving Winnipeg the Jets back! However Santa conveniently overlooked that he was just transferring over the Thrashers roster, but none the less a great gift to the people of Winnipeg.
Follow me on Twitter @gunnerstaal
Merry Christmas!