Part two of revisiting some of the recent bigger deals in the NHL involves the Columbus Blue Jackets and the Philadelphia Flyers. They got together on one of the bigger deals that happened in the summer of 2011: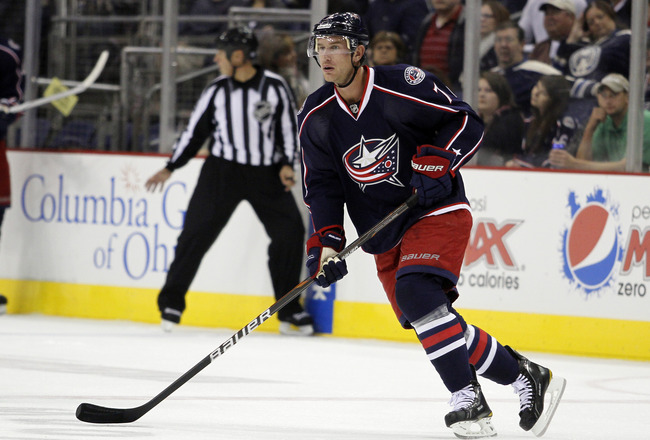 The Philadelphia Flyers trade center Jeff Carter to the Columbus Blue Jackets for forward Jakub Voracek, the eighth overall draft pick and a third-round draft pick.
This is the first of two huge trades the Flyers made over the summer in an effort to change the climate and culture of their hockey team. Carter had recently signed an 11-year, $58 Million contract extension with the Flyers through the 2021–2022 season. Safe to say this trade was not on many people's radar.
From the Blue Jackets point of view they needed a big move in a big way to shoot some life into their fan base and more specifically their franchise player Rick Nash. Rick Nash has played much, if not his whole career without having a legitimate #1 or even a #2 center. The Blue Jackets aggressively went after Carter in order to try and finally plug that hole in their lineup. There is no denying at the time of this trade that there was indeed some optimism about the move in Columbus.
From the Flyers standpoint they had obviously identified Carter as a player they did not want to move forward with. Puzzling that they did not know this when they offered him an 11 year deal, but credit to Holmgren for quickly realizing his "mistake" and moving Carter before his no trade clause kicked in (His deal has a full no-trade clause from 2012–15, followed by a limited no-trade clause thereafter).
In return the Flyers received big forward Jakub Voracek who was in the 50 point range the previous two seasons with Columbus. The thought with Voracek was that his offensive numbers would spike up a bit playing with better centers like Giroux and Briere. So far with the Flyers he has 53 games played with 9 goals, 22 assists for 31 points, which would have him at the same pace as he was before. Voracek can be a streaky player as shown in November when during a 5 game stretch from the 5th-17th he had 8 points. Currently in his last three games he has had 3 points, Flyer fans are hoping that he can go on a run like that again.
The 8th overall pick the Flyers received turned into young promising forward Sean Couturier. So far in his rookie season he has 10 goals and 10 assists in 49 games played. Couturier was hit in the head with a shot in mid December and missed 4 games but has recovered from the injury. Couturier is doing a nice job in his rookie season with his bottom 6 role and he has even earned his fair share of time successfully killing penalties. He will be an excellent piece moving forward for the Flyers as he works his way up to the top 6.
With the 3rd round pick the Flyers picked forward Nick Cousins. He is currently in the OHL with the Sault Ste. Marie Greyhounds and has played in 48 games scoring 26 goals and 35 assists for 61 points. That is good for 12th overall in scoring in the OHL.
This description comes from
http://www.hockeysfuture.com
:
Cousins plays with a combination of toughness and scoring ability that is similar to current Flyer Scott Hartnell, though he does not possess Hartnell's size. The strength of his game is his two-way play and competitiveness all over the ice; at the same time he did lead his junior team with 29 goals. The best parts of his offensive game are his passing and playmaking skills and a willingness to go to high traffic areas to create opportunities.
I don't think there is any doubt that the Flyers are on the better end of this deal as it presently sits. When Paul Holmgren made the decision that Carter was not going to be in the long term plans because of non hockey related issues, it became addition by subtraction. The fact that Holmgren not only rid himself of that 11 year deal (before the 3 year time frame kicked in on Carter's no trade clause) but got back very good value for him is outstanding for the Flyers. The Flyers got out of a bad contract and supposedly a bad locker room guy and added a great young forward in Couturier, a competent top 6 winger in Voracek, and a young player in Cousins who is currently playing at a high level in the OHL. Two of the three pieces are currently contributing to the Flyers right now and they are 4th in the Eastern Conference.
The Columbus Blue Jackets seemed to have badly missed the mark again. While it is understandable the pressure that Howson was under to make a big move, this was a move that was not well thought out. Putting aside for a moment that Carter already wants out of Columbus, he also is not a good play making center. Carter is a guy who needs the puck on his stick and loves to take shots. Rick Nash needs a play maker to get him the puck, not a guy who needs it himself. I would also say that whenever Carter was missing from the Flyers lineup, they never missed a beat. Carter's playoff numbers also leave much to be desired. In 47 playoff games he has 13 goals and 8 assists for 21 points. The Blue Jackets will not have to worry about that lack of production in the playoffs for the near future…
Now that Carter allegedly already wants out of Columbus, how many teams are going to line up for a player with that kind of contract? Carter would be on his third team in less than a year. Howson (or whomever the GM is) is not going to get close to the value that they gave up for Carter, thus setting the franchise back again. Columbus is in a bad bad place right now and part of the reason is this deal. For the Blue Jackets sake I hope that Craig Patrick still has some tricks up his sleeve to try and correct the mess that is their roster. And if Columbus does indeed get a top 2 pick, which they should, how will it play out for the fan base if they take another Russian player? Because the top two ranked players in this draft are indeed Russian.
Flyers win big here, another feather in Holmgren's hat.
Next up I will again revisit the Flyers, with the Mike Richards trade.