I can't help but see Darryl Sutter's face sloppily super-imposed on the body of Bill Murray as he turns over in his bed to slap his alarm clock at the beginning of another day in the film "Groundhog Day".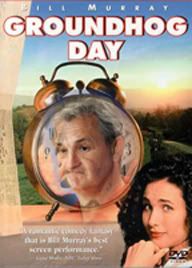 That's what it seems like in Calgary, year after year.
Yes - I used to be a staunch supporter of the bitter beer-faced Alberta native, but times they are a-changin' ... or rather: Times, they HAVE changed.
It seems that the post-lockout, "How to Build a Stanley Cup Contender", mantra is as late finding its way to Darryl as the latest fashion is in getting to Saskatchewan.
Does D. Sutter wake up every morning thinking to himself, "how can I make this team older, slower and less talented?". Because if he does, then hoo-boy, by his own standards he must be akin to Mr. Ken Holland in Detroit; the poster boy of NHL managerial success.
The reality of the situation is such that, much like Mike Keenan as a coach before him, Darryl Sutter's time as a viable NHL General Manager expired with the old Collective Bargaining Agreement. It just took most of us a long time to figure it out because the Flames were still able to find some semblance of on-ice success up until last season.
In fact, I feel like a member of the Calgary media that covers the Flames; pointing out the blatantly obvious day after day. Readers of the Sun and Herald in town are treated every day with today's hindsight on yesterday's outcome... and so, for that, I apologize. I suppose I've been blinded by my fandome, hoping day after day that the glimpses we all see is a real NHL team waiting to break out. But, the truth hurts, and the Flames aren't waiting to break out, they're waiting to break down... completely.
The Calgary Flames have not actually iced a Stanley Cup-contending team since Darryl stepped down as bench boss. Yes, they made the playoffs for several years following, but let's face it, teams haven't been scared to play amongst the 'C' of Red since the 06-07 season.
Even with the coaching carousel in Calgary over the last few seasons nothing has really changed, has it?
Goals are few and far between. Miikka Kiprusoff is relied on heavily due to incompetence in front of him. The defense is incapable of passing to a teammate on a breakout, always reverting to whip it around the boards or chip off the glass and out (Newsflash: those are Turnovers!). The penalty kill doesn't challenge other teams, it sits back and let's them fire at will on Kipper. The power play looks timid and ineffective as if they're surprised that the other team is pressuring them ("Hey! Leave us alone, we're on a power play here!" ) To top it all off, there is rarely a night when the team gives a 100% effort before it's too late.
We are hit over the head in our Flames coverage about Brent Sutter's system. Well, Brent's system looks an awful lot like Mike Keenan's system which looked an awful lot like Jim Playfair's system which, believe it or not, looked a lot like Darryl Sutter's coaching system (minus the effort).
To make things even sadder, we were given a preview of General Managing incompetence not 3 hours away from here in Edmonton, where Kevin Lowe was allowed to create a doozy of a loser and dig that franchise into a 3-4 year hole. Not only does the Flames franchise not learn from this, but they take old Edmonton mistakes in Ales Kotalik and Steve Staois. Management waited roughly 2 years too long with Kevin Lowe and they're feeling it right now as they're not yet out of the woods.
I've got sad but true news for Calgary fans, this is where Darryl is taking this team.
Let's look at the reality of the situation from the numbers:
First of all, Darryl has a two-year plan with the current group of Flames. Even if they don't make the playoffs this season, he still won't re-build. Yes, I know, it's ludicrous... (but this is the man who gave Stajan a ridiculous contract extension after 7 futile games in a Flames uni). Up against the cap with trade-master Darryl at the helm for another kick at the can next season? I'm going to go out on a limb and predict no playoffs again.
So, let's pretend the Flames clean house after they miss the playoffs this season and new management is brought in to rebuild. Next season is already a write-off due to horrific contracts with No Movement Clauses tying the team down (a lot like Brian Burke has been trying to deal with in TO). So the actual re-build doesn't start until the offseason of 2012. And, using the Penguins and Blackhawks as examples, you're still at least 2 drafts away from being able to make a push at the playoffs. Now, we're sitting at 2014, hoping for the Flames to make the playoffs come April 2015.
Best case scenario, the Flames are making another actual playoff push in April of 2015. More than 4 years from now. APRIL OF 2015!!!!
Now, imagine Darryl is given another season to make terrible trades and even worse contract extensions. (What if... and I can barely get this out above my trembles... what if he signs Cory Sarich to an extension. Oh god - he has to go.) My point here is that if Darryl is given another year beyond this one at the helm of the Flames, we're looking at closer to 2016 before they can make another run. The 'C' of Red will be a distant memory by then.
Of course, maybe you're still on board with the current roster/coaching staff/management etc. In which case, if I may steal from my favorite episode of South Park this year... "I'm deeply sorry."
<object width="640" height="385"><param name="movie" value="
http://www.youtube.com/v/...t;</param><param
name="allowFullScreen" value="true"></param><param name="allowscriptaccess" value="always"></param><embed src="
http://www.youtube.com/v/...I?fs=1&hl=en_US"
type="application/x-shockwave-flash" allowscriptaccess="always" allowfullscreen="true" width="640" height="385"></embed></object>
Wake up Darryl! It's not 2004 anymore. And, even if comparing Darryl Sutter to Bill Murray makes me... Andie McDowell, then so be it. Unfortunately, the words in this blog won't be able to break the vicious loop Sutter has caught himself in.
I just know I can't wait until I wake up and it's February 3rd.