Over the Next 30 days I will be Previewing each of the National Hockey League Clubs heading into the 2011-12 season starting from the Anaheim Ducks. Day 14 of the series belongs to the official AarifDeenReport Minnesota Wild Preview.
Please resort to myhockeybuzz page for previews of teams falling before this team.
Follow me on Twitter @AarifDeenReport please.
2011 Review:
Did you know the Minnesota Wild held the 15th best attendance in the NHL this past season? Higher then teams such as the surprising Tampa Bay Lightning, the San Jose Sharks, and even the Stanley Cup champion Boston Bruins. Funny right? Every year the Wild are one of those teams that ice an average roster with a few stars, and are always that team on the bubble that has a chance to make the postseason or barely miss out.
In 2011, the Wild once again iced Mikko Koivu, and a team full of average players and disappointing players (see Havlat) looking to squeeze into the playoffs. It's one of those teams that suffer a huge setback if a top player goes down. More-so then many other clubs. Unfortunately for the Wild, that was exactly what happened. Guillame Latendresse was lost to injury before the calendar struck November. He played just three games the rest of the year. Looking to build off a great year in 2010, he was held to just 3 goals in 11 games, and will look to make a difference this upcoming season.
Once again a huge factor in where the Wild finish in the standings, goaltender Niklas Backstrom posted a losing record for the first time in his career ultimately giving the Wild no chance of making the playoffs. With Theodore as the backup this past season, the Wild were able to count on him for some wins, but Backstroms below average season played a huge role in the 12th place Western Conference finish.
After a 500 record in October, the Wild started the month of November winning four straight games. Bringing their record to 8-4-2 and in the mix of a battle with the Canucks and Avs for the Northwest division. But that may as well been the best run they had all season long. Marek Zidlicky and Chuck Kobasew both were hit with injuries during the winning streak, both missing significant time.
One of the few excitements WIld faithful had this season was the return of Pierre-Marc Bouchard. The young former first-round pick was finally coming into his own before suffering a concussion missing all but one game in 2010. He made a comeback scoring 12 goals and 38 points in 59 games. He will look to build off that this year.
One other consistent player fans look forward to seeing day-in and day-out is team captain, and top line centerman Mikko Koivu. After an average rookie season, the younger brother of Saku Koivu has slowly gotten better and better proving to be one of the best two-way centers in the league today. He cashed in during the summer of 2010 with a seven-year $47.25 million contract extension, and was named the captain of the team.
Once again, other then the few bright spots the Wild hold, the season was another failure for Minnesota fans who have missed the playoffs for three straight seasons now. When the offseason came around, Chuck Fletcher was aware that this was the time to add stars to the team, and give the fans what they deserve after continuously showing support to a usually average squad in Saint Paul, Minnesota.
Major Players Added:
After a dull trade-deadline, the 2011 NHL Draft made up for it with many big deals taking place in the Minnesota-hosted draft in June. Chuck Fletcher was able to send the fans roaring making a big trade with cross-conference rivals, the San Jose Sharks on day one of the draft.
Devin Setoguchi:
Here it is. The big trade during the first-round of the draft. Minnesota Wild General Manager Chuck Fletcher made a huge trade with Doug Wilson in San Jose. He acquired former 30 goal scorer Devin Setoguchi, last seasons first-round pick Charlie Coyle, and this seasons first-round draft pick from the Sharks for young defenseman Brent Burns, and a 2nd round draft pick. Seems like a hefty price for Burns right? After the Avalanche traded Stewart and Shattenkirk in a package deal centered around Erik Johnson, the price for young defenseman was set. Potential #1 blueliners are hard to find, and don't grow on trees. You have to pay a hefty price to acquire one. The Sharks did just that by trading three first-round draft picks for Burns and a lower draft pick. While he played great in Minnesota, Burns will surely shine with the Sharks and replace Ian White. But Setoguchi will play top-line in Minnesota and will look to Koivu to help him forget about playing alongside Joe Thornton to start his career.
Darroll Powe:
A great penalty killing centerman, Darrol Powe was acquired from the Philadelphia Flyers for a 3rd round draft pick. He will look to take over the 4th line in Minnesota and will receive plenty of shorthanded ice-time to help the 14th place penalty killing Wild back to being one of the top PKers in the league. Which they have been for most of the post lockout seasons.
Dany Heatley:
Chuck Fletcher and Doug Wilson were at it again. Just as the free agent signings began to slow down on the 3rd day of July, the NHL world was hit with another "blockbuster" deal. The Wild traded under-achieving forward Martin Havlat to the Sharks for Dany Heatley. Dany was not doing any better then Havlat was with his respective club. The former two-time 50 goal scorer will look to get back on track with the Wild. Surely with a familiar face in Setoguchi projected to play on the same line as him, it is very possible a change of scenery is all he needs.
The Others:
The Wild added 26 year-old defenseman Mike Lundin on a one-year contract worth $1 million. Also signed to a one-year deal, Jeff Taffe was added to the Wild lineup. Last season he played for the Chicago Blackhawks minor league squad in Rockford.
Who Was Lost:
D Brent Burns was traded to the San Jose Sharks
D Cam Barker signed with the Edmonton Oilers for one year worth $2.3 million
F Andrew Brunette signed with the Chicago Blackhawks for one year worth $2 milion
G Jose Theodore signed with the Florida Panthers for two years worth $3 million
F Chuck Kobasew signed with the Colorado Avalanche for two years worth $2.5 million
F Martin Havlat was traded to the San Jose Sharks
F Patrick O'Sullivan signed with the Phoenix Coyotes for one year worth 625k
Full-Team Look-in:
This upcoming season is going to be very interesting for the Minnesota Wild. They have added plenty of pieces that could take them back to the playoffs. However, They've lost many important pieces. Their defense lacks a true number one defenseman with Burns now playing San Jose. While the return for Burns was great, and will be a huge help for them soon in the future, right now the loss of Burns is too big of a loss to their blueline. Nik Shultz and Marek Zidlicky will most likely play the top minutes for Minnesota this season.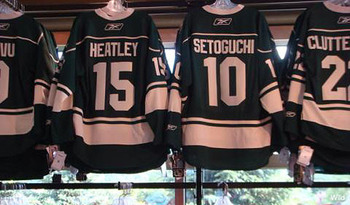 While the defense seems to be a huge question mark as of now, the Wild forward core has upgraded greatly. For the first time in a long, long time, the Wild now have a top-line that could challenge to be one of the best in the league. Mikko Koivu has got to be licking his chops at the opportunity of playing with a young former 30-goal scorer in Setoguchi, and a former two-time 50 goal scorer in Heatley. Darroll Powe, as mentioned above will be a great addition to their fourth line and will help their penalty killing as well.
If there is a problem with this Wild group, it's the lack of leadership it brings. It's not like Havlat was much of a leader, but Heatley and Setoguchi aren't exactly leaders themselves. Brent Burns. again, will be a huge loss to them. Not only in production and defensive play, but in leadership as well. The young defenseman was finally coming into his own. While many could argue it was a big mistake to trade him now, his value was through the roof after his production last year.
While Burns was a big loss to their leadership, he wasn't as big of a loss as Andrew Brunette. This left-winger is not the fastest skater out there. Hes not the most skilled or the biggest forward. But man can Andrew get into the tough areas. He plays greatly along the board and is probably one of the best players behind the net in the league. While his production will be missed greatly, the former Wild captain will be missed mainly for his leadership. Toews, Kane, and the rest of the young core in Chicago will benefit greatly from Brunettes leadership and outspoken personality. In Minnesota, it provides a huge void that Koivu and the rest of the gang will have to make up for.
The most secure position on the Wild roster has got to be their goaltending. Niklas Backstrom (not Ovechkins man crush) is one of the best goaltenders in the league. He plays a very calm butterfly style. Although it leads to many hip injuries, Backstrom has done a great job back in net for Minnesota. Looking to get back to the postseason, Backstrom is in series need of rebounding from last years play.
Minnesota not only holds one of the best starters in the league, they also hold a great backup goaltender. Josh Harding has been said by many to be a future starter in this league. Unfortunately for him, last seasons injury didn't help speed the process. He'll be looking to take 20 or more games off of Backstroms back. Although it may take him some time to get back into form. The last time the 27 year-old goaltender saw NHL action was back on March 26th, 2010 when he gave up four goals to the Detroit Red Wings in a losing effort.
Deen's Projected Lineup:
Dany Heatley - Mikko Koivu - Devin Setoguchi
Guillaume Latendresse - Matt Cullen - Cal Clutterbuck
Eric Nystrom - Pierre-Marc Bouchard - Kyle Brodziak
Colton Gillies - Darroll Powe - Brad Staubitz
Marek Zidlicky - Nick Shultz
Gren Zanon - Mike Lundin
Clayton Stoner - Jared Spurgeon
Niklas Backstrom
Josh Harding
Deen's Prediction:
While their forward group increased greatly, the Wild defense has no business in the postseason this year. Unless major changes come about throughout these 82 games, they will miss once again. They will place 11th in the Western and will have one of the top picks in the draft this year to grab one of many top defenseman this years draft group has to offer. Dany Heatley however will score 35 goals and Koivu will hit the 80 point mark.
Deen's Daily Tidbits:
I'm very sorry for the long wait between blogs. Rough schedule lately. The next 16 blogs will be uploaded over the next 16 days and will be completed on the third day of the regular season
Considering it has been a long time since my last blog, I still need to do this. My heart still goes out to Yaroslavl Lokomotiv. I still to this day am shocked at what happened, and I still will greatly miss all the players that died tragically. RIP to all. Skrastins and Salei will always have a place in my heart.
Speaking of that tragedy. Pavel Datsyuk is nothing but complete class. A great guy indeed. He is wearing jersey #24 throughout the preseason in memory of #24 Ruslan Salei. This guy is great.
Preseason is underway! The regular season is right around the corner, suspensions are being handed out, goals are being scored, and fights are leading to more fights. Man it feels good to be a hockey fan right now!
...Drew Doughty... Uhh.. You realize the season is just 13 days away right?
Thanks for reading! Follow me on twitter @AarifDeenReport please!