Man, do I wish that I DID predict that the Islanders were going to win 7 in a row when I wrote,
7 Down to 7 Up
! But what are you going to do? With my luck if I go ahead and say that "you know what" will definately happen, then they won't accomplish "you know what"....confused yet? Okay good.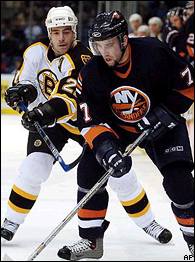 Hunter officially re-signed to a five-year 10 million dollar deal, keeping him on board at least until the 2012-2013 season. To me this is a great signing by the New York Islanders. Long-term contracts usually come in hand with large paychecks, but Hunter accepted a VERY inexpensive salary in order to get the years he was looking for. I know there are many hockey fans out there that were hoping to see him play for their respective teams next year, and the Isles were lucky to retain him at a very affordable price. You had to guess they would try to get him to stay, especially since Nolan has come out and said that he looks at him as a potential future captain of this team. Whether or not Hunter will be, or make, a good captain is yet to be seen. But for now our third line, defensive minded, hard hitting winger is here for several more years, and if you ask me, it's a great move.
So whose next to be re-signed? Personally, I hope it's Comrie, and I hope to see him re-signed somewhere around 3-years around the same price he's paid now. For the players that want to be here and give an honest effort on a relatively consistent basis, it's a no-brainer to bring them back.
In other news, I heard from a friend that on Ek's podcast yesterday afternoon that a rumor was announced, claiming that Andy Sutton was the d-man to go to Toronto in the McCabe deal. Supposedly he's been a distraction in the locker room and starting conflicts with his teammates. How true is this? I do not know. But if it is true it will definately make things interesting this summer. Obviously Sutton will not be traded now since he's hurt for the next 4-6 weeks, but who knows if that means he'll be gone in the off-season.
And this also makes us wonder if the McCabe deal still holds potential, and if so, who are we to part with? Tuesday afternoon will be very interesting to say the least, and I will definately be at my computer all day.
So now onto
The Rock
where the Isles will be face-offing with the New Jersey Devils this afternoon. So far this season the Islanders are 5-0 against their division rivals, and if things go as they have, that record should increase to 6-0. However the Devils are back amongst the division leaders and 2nd in the conference, so if we expect to win our boys in blue have to give one of their best efforts. Ricky's performance against the Lightning on Thursday night was outstanding, and he'll have to match that performance against good'ol Martin Brodeur. A definite plus is that Bruno Gervais will be back in our depleted defensive line-up.
Gervais definately sparks speculation, as he is the only defenseman not under contract after this season, with the exception of Berard, Bergeron, and Johnson, however these three are assumed or rumored to not be returning next year. Gervais has definately shown some potential and has stepped up to log big minutes in the absences of players like Martinek or Witt. However if you look at his minor-league stats, he was an offensive powerhouse on the blueline. So was Campoli, and Campy has finally started to emerge as a d-man beginning to make his strides. Gervais seems to be coming along a bit slower. This is not a blogger calling out for the movement of Bruno - he's still young and may turn out to be a great asset on our blue-line, but unfortunately for him he may be the odd-man out on the blue-line this deadline/summer with six defenseman set to return next year.
But for now tonight is the last game for the Islanders before the deadline. So watch closely, because several of the players on the ice today may not be on the ice Tuesday evening in an Islanders sweater. But more importantly, let's hope our boys can pull away with another victory to propel us into 6th place. With the faith restored and the playoff drive back on-track, all I have to say is
LET'S GO ISLANDER'S!