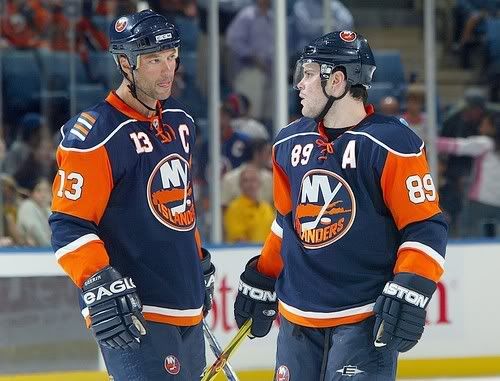 Besides the swap of Comrie and Campoli to Ottawa for Dean McAmmond and San Jose's first round pick, the Islanders were quiet today on the trade front. I'm sure Snow had a few other offers on the table for other players on his roster, but the only deal in which Garth pulled the trigger sent Captain Bill Guerin to the Pittsburgh Penguins for a conditional fifth round pick that, if lucky enough, will blossom into a third round pick if the Pens make it through the first round of the playoffs with Guerin playing half of those games.
At first I thought this was bogus. A Stanley Cup champ veteran going to a team fighting to make the playoffs and this is all the guy is worth? We got hosed. This is terrible. They better redeem themselves somehow.
But then I got to thinking, how could I or anyone have expected that much more for Bill? Look at this way. Guerin is 38 years old. Yes, at that high age he was our leading scorer, but that was only with 16 goals. When he was traded from St. Louis to San Jose he was en route to a 36 goal year. He's not even close to that right now. Add that Bill barely did anything for the Sharks in their playoff run that year as well. Therefore his history of helping a team when they need it doesn't really raise his value.
This year teams weren't so quick to dish out valuable picks and prospects at the expense of aged veterans as they have been in the past. And I have to say, as disappointed that I am that the Isles didn't find a way to fair off better than they did today, it's a good thing that these outrageous deals weren't in abundance this year. Too many franchises shoot themselves in the foot because they sell off so many of their assets since they're so hungry for the playoffs. Trust me, I'm an Islander fan. I know.
So is the deal that Snow made today the best one? Not at all, but is it the worst? Far from it. Kudos to Garth for keeping his head and making a deal to help build this team instead of kill it. We already have an additional 3rd and 1st round pick to go along with our original 1st and three 2nd round picks we already had. He still may find a way to do some damage with them too. Botta threw out an idea on his blog at Islanderspointblank.com that I would not be surprised to see happen. What if the Isles have their eyes on a prospect that's expected to go mid-way through the first round? What if Snow packages that late first-rounder with one of his second-rounders to move up the same way that he moved down last year?
It could happen, but that's still months away; let's look at what the Isles have going for them right now. With Guerin out of the line-up for the rest of the season and Jon Sim demoted to Bridgeport, the Isles have two spots open for playing time. Nate Thompson has been reactivated from the injured reserve and will probably resume playing under Gordon, but I expect to see a few more fresh faces from Connecticut playing on the island before the year is finished.
I have to say, I can only imagine how Jon Sim feels right now. The guy wasn't playing up to par and saw himself benched 14 times over the course of the year after missing all but two games of last season due to a knee injury. He returns and plays some of his best hockey as and Islander and gets demoted to the minors. This might be an example of some of the veterans not getting along well with Gordon.
Either way, last year Snow said he was a builder. This year he was a seller and only auctioned off one of his players. Hopefully this picks he's bought will help build this team towards the next step next year.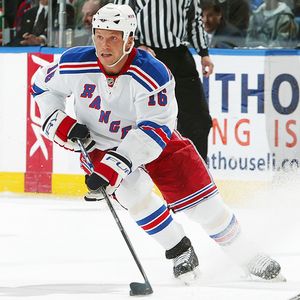 But now since the trades have happened and the day is over, let's get back to hockey. Tomorrow night I will be going, as a fan, to the last Islander/Ranger game of the year. I don't know for sure yet if he's playing, but I'm hopeful he is since Avery is back in town...and Witt is still here to rip his head off.
Let's hope it's the best game of the series.
-Rob McGowan