This week has been a little crazy. My break came to an end and I had to quickly shift gears from being that lazy bum that sat on a couch playing Call of Duty: World of War and NHL 2009 to a student again. So far, it's not going so well. I go to class, but start writing down line combinations in my notebook on what I think the team might look like next year or go over who might be traded and who shouldn't. I'm quite the scholar, I know.
Due to all this nonsense, I had to give blogging a handful days of rest just so I can stay on top of school. But now that I'm pretty much back in the swing of things, I finally found some time to get back to the blogging world and of course my beloved Isles. Things are still relatively quiet with the All-Star break still in effect for the guys in blue and orange...leaving me to think that I can finally discuss the defensive prospects that the Isles have and are playing...but then I heard the unfortunate news about Mike Sillinger. Done for the year, just like DP.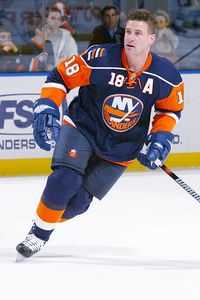 Unfortunately, those few games that Silly played a while back may have been his last. At his age two hip-surgeries are not easy to recover from, as evident that one kept him out for the final quarter of last year and all but seven games of this year. He was one of the core leaders for this team and will be greatly missed on and off the ice. Hands down he was one of the best center-man the Islanders have had in years, and his decisive victories on that red-circular dot have been missed throughout the year at the most crucial of times. Whether or not Sillinger is capable of playing another NHL game at the start of next year, I'm sure every Islander fan will wish him the best and to a quick and healthy recovery.
I'm an English Major, but one thing I remember from Physics class is that for every action there is an opposite and equal reaction. Mike Sillinger's permanent removal from the lineup for the remainder of the 08-09 year allows players like Nielsen and Bailey to step into that prominent role that Scott Gordon has been talking about. It's possible that the team had an idea that Silly wouldn't be able to return considering he has been out this long, but now it's go-time. These kids have a chance to step up and prove that they can try to fill the gap that Silly leaves behind. It will be a tough act to follow, but these next 30+ games will be a determining factor.
Of the two, I can see Nielsen filling the role. He hasn't been as decisive in the draws, but he has shown in a handful of games that he can win the puck for this teammates the majority of the time. He also has shown signs of a solid play-maker, even after returning from an injury that kept him out for over a month.
Bailey on the other hand has shown his weaknesses of late. He needs to get back to that style he had when he was trying to earn a roster spot. I'm not suggesting that he's taken a step back because I'm sure he's well aware that he can be assigned to Bridgeport next year. He's working hard along the boards but he needs to try to get himself into better scoring positions. The positive is that he's still only 19 and has shown lots of potential despite this scoring drought that he's going through.
The loss of Sillnger also increases the possibility that as the season goes on, (and once March 4th passes) Ben Walter and Jeremy Colliton may get a few more looks by season's end. Both of them have been in the AHL for a while and Walter has played in Gordon's over-speed system for a few years. He may be able to earn some big minutes at the NHL level due to this extra experience. With the Isles a far-cry from the playoff race, anything is possible. Every player worth looking at deserves their shot with all the injuries this team is going through.
All in all, to Mike Sillinger, thanks for all of your hard-work and leadership that you brought to the ice every game. We all hope you get well soon.
-Rob McGowan