They like to find turning points.
Distinct moments when the tide turned, for better or worse. Moments that were the beginning of the end for a given hockey club.
Had Tampa Bay not beaten Carolina on the penultimate day of the season, they would have said it was the 3-0 loss to the Thrashers two days earlier.
Now, they say, it was the 3rd period of Game 4 vs the Capitals. If the Rangers hold that lead, tie the series at 2-2, they would have gone on to win. Instead they blow it, and go on to the golf course. So, they say, that period must be the turning point of the season.
But they are wrong.
There was no turning point for the New York Rangers, the fate was sealed once the roster was set. A roster full of 2nd tier talent, but conspicuously devoid of elite scorers. This is not to say that it was a foregone conclusion that sniper Marian Gaborik was going to have a sub-par year, just that he was set up for failure. That the most successful teams cannot rely on just one elite player, as we learned in the Jagr era. Cap space, these days, must be spent on top goal scorers and playmakers, not on penalty killers and faceoff-takers.
So in engaging in a postmortem of the season, we look to evaluate the team based "fulfillment of potential" (FOP) in addition to overall performance. In this way, we can acquire a unique perspective on how the players played without taking into account how well management assembled a competitive team.
Offense:
Performance: C-
FOP: B+
It is a harsh grade, you may say, for a team that finished middle of the pack in goals scored (16th, 224). But the truth is that, on most nights, the Rangers were one of the most inept offenses in the league.
66 of those 224 goals were scored in ten games. The rest of the goals, over the 72 remaining games, gave them an average of 2.19 goals per game. For perspective, a goalie with that kind of GAA gets a Vezina Nomination on most years. So the Rangers were the kind of team that scores two goals most nights, and on rare occasions will explode for six or more. Success more often follows teams that consistently pot three, four or five goals a night, with the occasional burst and the occasional stinker.
This trend embodies the performance of individual personnel as well, as the top scorers on the team often scored in bunches before disappearing, due to injury or plain incompetence, for weeks at a time. In no player was this more apparent than Marian Gaborik who scored 10 of his 22 goals over three games. Over the rest of the season he averaged only 0.20 goals per game, an abysmal (or adismal if you are Mike Keenan) performance for the club's best player. The scoring woes continued in the playoffs as the Rangers were shutout once, and scored only 8 goals in 5 games. As good as the defense and goaltending was, the object of the game is to outscore the opponent. The Rangers had no chance.
With two notable exceptions, Rangers forwards reached and exceeded expectations. Seven forwards reached career highs in goals, combining for 64 goals above their previous highs. Ryan Callahan averaged 31 goals over a full season. Brian Boyle and Brandon Prust had career years on the 3rd/4th line.
Derek Stepan was the most impressive Rangers rookie in a long time with 21 goals in his debut season. Couple this with the fact that none of these players have great shots and it becomes even more impressive. This was a team that worked hard for every goal, that overcame a lack of elite talent and still produced.
However, it is not all glowing praise for the offense. Two players dramatically underacheived. One, Marian Gaborik, is obvious. Enough has been said and written about his performance, and we will analyze the cost and benefit of keeping him around for another season in Part 3.
The other, and hold back the torches and pitchforks for a minute, is Brandon Dubinsky. Dubinsky did add four goals onto his career high, with a team leading 24 goals. But over the course of a full season, he averaged less than two goals more than the previous season.
He scored just 6 goals after the all-star break, the second year in a row that he faded during the 2nd half. He also went on another scoring drought, posting no goals and only three assists during an 11 game stretch late in the year. As a member of the young core of this team, Dubinsky needed to, and was expected to improve dramatically as a 3rd year player. Instead, he relapsed into poor performance and just barely improved statistically.
It is worth noting that Wolski and Frolov also did not perform to their skill level, but that much was expected, given their prior history. It should also be mentioned that Chris Drury, though terrible, was not expected to produce much. Therefore, despite his salary, he does not harm the FOP Grade.

Defense:
Performance: B+
FOP: A
Take whatever statistic you want. 1301 blocked shots. 2333 hits. 195 goals against. The Rangers defense was phenomenal. Dan Girardi (+7) was a shot blocking machine.
Paired with the brutally physical and violent Marc Staal (+8), he protected the net as well as any defender in the NHL. Throw in a couple of rookie defensemen, Sauer and McDonough, who combined for a whopping +36 and you have got a great top four.
The struggles mostly came from the bottom pair, who are, well, supposed to struggle. Matt Gilroy has trouble on the defensive side of the puck, especially when playing on his off-wing for much of the season. Steve Eminger was inconsistent, despite the "jam" he brought. Del Zotto is a head case. The McCabe experiement was a failure, as the "PP QB" did not help on offense and was slow enough to conjure memories of Aaron Ward and Marek Malik on Broadway. And Michal Rozsival has undergone enough critisism while in New York to be able to escape detailed critique at this time.
Somehow, despite all the shot blocking and bruising defense, they allowed almost 30 shots per game to get through to Lundqvist. That means, that despite playing between 100 and 300 fewer minutes this season than in any of the previous four year, Lundqvist still faced a similar amount of shots. Many of the goals allowed were unstoppable for King Henrik, which usually occurs due to a defensive breakdown. So the squad, though excellent in certain aspects, had its troubles.
But this defense had only one veteran player at any given point in the season. It had two rookies and two 2nd year players at times.
Forgetting the promising future of the squad, the fact that they performed so well this season is truly remarkable. The top two pairings, with no player older than 26 combined for +51. The only real fault lies with the bottom pair, and even the best teams have to tolerate a drop-off in talent at that point. So with the players assembled, it is almost impossible to find fault with the defensive side of the puck this season.
Goaltending:
Performance: A
FOP: A-
There is not much to say here that has not already been said. Henrik Lundqvist (arguably) should have been a Vezina nominee for the 4th time in his career. He led the league with 11 shutouts, placed 5th with a 2.28 GAA, and came in 4th with a .923 Sv%. He carried the team once again, with over 35 wins for the fifth year in a row. He did this all with almost no offense to help him and a young, inexperienced defense in front of him.
The only knock on him, and with Henrik it is just nitpicking,
is that he experienced a cold streak during midseason where soft shots managed for find the net. He is not a highlight reel goalie, and some may find fault with the fact that we rarely see desperation, diving, sliding, reaching saves from him. But what that really shows is how well he positions himself. He is the best goalie at positioning in the league, this much is hard to argue with. It makes him so effective on breakaways, shootouts and long shots. Many of the goals we allowed were unstoppable, by any goalie. The fact that he faced so few unstoppable shots is a real tribute to his awareness and intelligence as a goalkeeper.
Special Teams
Performance: C+
It is hard to evaluate special teams as one group, but the number that stands out is +13, the differential between goals scored and goals allowed when one team had a man advantage. Now that sounds good, but away shorthanded goals from both sides and its only +7, still decent. But the Rangers were only shorthanded 257 times, while they were a man up 290 times. That adds up to 69 more minutes on the PP than the PK (3rd in the NHL). Suddenly the differential doesn't sound so good.
Officially, the rangers were 19th on the power play, operating at 16.9%. But we all know it was much worse than the numbers imply. The Rangers had trouble moving the puck, moving bodies, and getting the puck through. Though I could not track down a stat for shots taken on the PP, it must have been bad.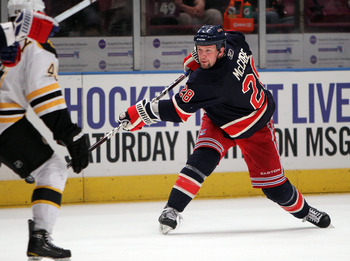 The power play killed the Rangers in the playoffs, as they went 1 for 20, including two 5 on 3 advantages where, to be brutally honest, the squad looked worse than they did during even strength. Those missed opportunities were huge, as the squad lost two games in OT, and the other two by a 2 goal margin. If the Rangers go a decent 15-20%, they would have won at least one more game, and probably two or three more.
On the other hand, the penalty kill was 10th with an 83.7% success rate, but it really was better than that, as it yielded only a -31 goal differential (best in the NHL) in 257 opportunities. This was due to the 11 shorthanded goals scored by the PK unit, led by Brandon Prust and his five tallies. Use goal differential and the PK percentage was 88% which, according to my guesstimation, would put them in the top 5 in the NHL.
Overall, special teams were a problem for the Rangers because the harm caused by the PP vastly outweighed the gain brought by the PK. The Rangers were one of four teams that spent 50+ more minutes a man up than a man down. They earned that advantage, through strong discipline and hard work to draw calls. But they squandered it, wasted it away. And with it, went the season.

Coaching:
Performance: B+
Say what you want about John Tortorella's character, but he got the most he could out of a young, inexperienced, talentless team. There were some failures, notably Gaborik and the PP, but much of that was due to lack of personnel to help both of those parties. Credit him for getting the Rangers, including the struggling Gaborik, to buy into the grinding, forechecking, backchecking and cycling system.
This system was the only way for this team to have success, and though they clearly tired at the end and could not compete with elite talent it was a successful season. Tortorella clearly recognizes the direction this franchise is heading in, and needs to head in to have success. He changed his style to fit this team and he clearly loves these players (or most of them anyways). I think he is also providing Sather with clear direction of where this team needs to go, personnel-wise, and that can only be a good thing. If this team does make a Cup run in the next few years, Tortorella will be a huge part of it, whether he is behind the bench or not.