With all the proper religious respect due my brothers and sisters of other faiths, seeing a scrimmage with real NHL players was like walking down the stairs as a kid on Christmas morning.
The smell of a clean sheet of ice, the sound a skate makes as it carves its first turn, the reverberating thud of a puck against the glass and the playful banter of teammates as they take each other into the corner. That is why live hockey is the best of all spectator sports. It was like unwrapping a present over and over again - in September no less.
Just like on Christmas morning, as a fan your eyes get as big as saucers, your throat gets a lump and you can't imagine what might be underneath the tree - a nice Biron glove save? A nifty Timonen outlet pass to a streaking winger? A pretty goal by Summit Series star, Claude Giroux, that gives you a taste of the goodies to come? All of that and more...
I had the great opportunity to spend time with two fellow HockeyBuzzards, GoalieGuy95 and Ladynic, at the Flyers Skate Zone in Voorhees, N.J. on Sunday morning. Both LadyNic - famous with current and former Flyers players as a human puck target and aiming point on the glass - and GoalieGuy95 - with whom I was very impressed with his knowledge of the game from a referee's viewpoint and his journalism studies - have written excellent blogs about the Flyers. It was great to hang out with you guys.
Here are the photos from my camera - I would have taken more but I burned through two partly charged batteries pretty quickly.
http://s228.photobucket.c...e162/JHRIV/flyers%20camp/
I had the pleasure of watching Team Allen and Team Barber practice and then face off in the early scrimmage. Teams Barber and Allen were comprised of the following players:
Team Allen
Scott Hartnell Mike Richards Sami Kapanen
Adam Henrich Pat LeBeau Claude Giroux
Josh Beaulieu Mario Kempe Riley Cote
Braydon Coburn Derian Hatcher
Lars Jonsson Kevin Marshall
Rory Fitzpatrick Adam Bourque-LeBlanc
Antero Niittymaki
Scott Munroe
Team Barber
Ben Eager R.J. Umberger Stefan Ruzicka
Boyd Kane Jim Dowd Steve Downie
Matt Stefanishion Pat Maroon David Laliberte
Brad Schell Ryan Potulny
Kimmo Timonen Jason Smith
Jussi Timonen Martin Grenier
Ryan Wilson
Martin Biron
Martin Houle
From someone who has not spent nearly as much time around the rink as either one of those buzzards, I was impressed and struck curious by a few things:
First, Team Allen:
The line of
Hartnell, Richards and Kapanen
was buzzing around at top speed during the scrimmage, had some great scoring chances and looked very at home together. The White team put on an offensive show and much of it came from this line.
I love the way
Sami Kapanen
plays the game - he is always moving without the puck, hustling and is a tenacious backchecker/defender. He is Captain material.
Claude Giroux
, also on the White team, is the real deal folks. He has ALL the tools to be a serious NHL caliber star. I was even more curious to see him with NHL talent after his dramatic emergence at the recent Summit Series for Team Canada. He did not disappoint. He is fluid, shifty and makes those around him look like they are skating in quicksand. He has a lightning wrist shot and exceptional vision for someone born in 1988. Giroux had a snap shot off the faceoff he had just won that had more than a few people shaking their heads in a "Holy SH*T...how did he do that?" kind of a way. Not bad for a young man. Yeah, I was a junior at Boston University when Claude was born in 1988. Man do I feel old.
Braydon Coburn
is going to be a HUGE part of the Flyers defense for the foreseeable future and why Atlanta ever let him go is unfathomable to me. He is a 6'5", 220 pound stud who will play in the second pairing this year and will be around a long time in Orange and Black. Being paired with Hatcher - who scored a goal in the scrimmage - will allow this guy to be more offensive minded and he has the tools. Expect big things from this guy.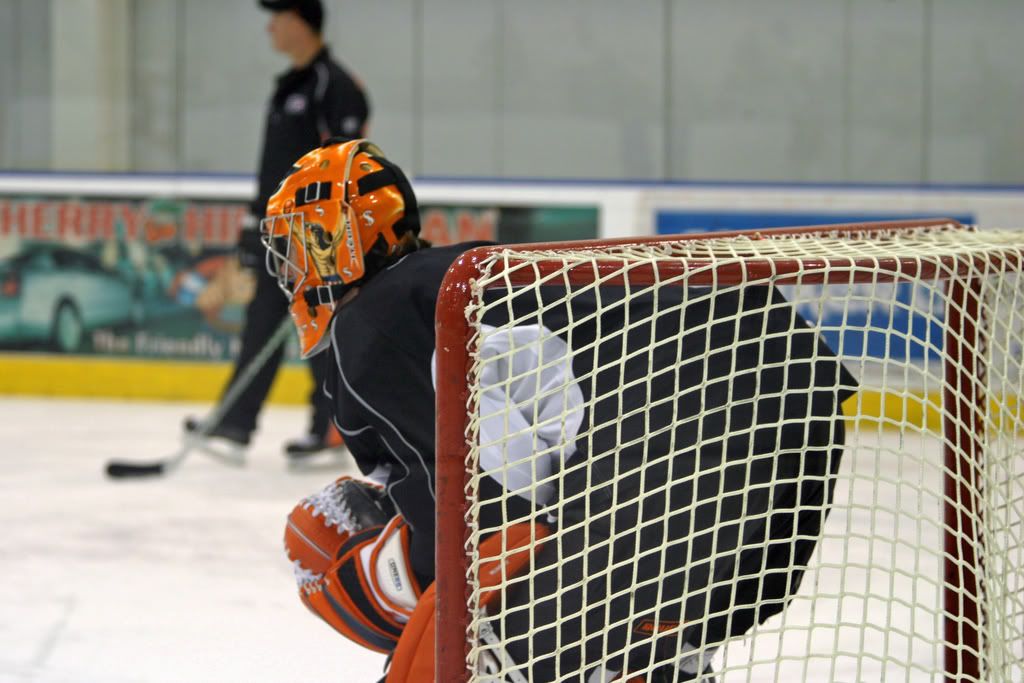 Antero Niittymaki
came out with some new pads and they were so clean they just sparkled. He played well and looked sharp in net. Everyone kept saying that he looks like someone who is healthy - mentally and physically - and wants to challenge for the top spot. Good. I want my goalies to all feel they are #1 material. Biron is the #1, however, and it would take an injury for Nitts to see the lion's share of time. That being said, a tandem of Biron/Niittymaki could go a long way to returning the Flyers back to the promised land - the playoffs.
Lars Jonsson
also looked good, which is promising for the Phantoms and a likely source of relief for the big club in case the injury bug bites.
Team Barber:
Ben Eager
looked good and played with the sort of fire and grit that your leading penalty minute getter - notice I did not say goon/fighter/enforcer - would exhibit. Eager is much better suited for Flyers as the team pest with skill, as opposed to the goon with no skill. I firmly believe that the Flyers will pick up more of a "heavyweight" type enforcer around mid-season just to keep other teams honest when thinking about going after Danny or Simon.
What was most impressive about the Black team was the defense and goaltending. I had not seen the top pairing of
Jason "Gator" Smith
and
Kimmo Timonen
and was anxious to see if they lived up to the top billing and obvious importance that Management put on acquiring them. They were impressive. "Gator" is huge, loved to hit and you can just see that he is the epitome of a defensive defenseman and a seasoned pro. He was never out of position, did not get faked out and threw his weight around. If the C were to end up on his sweater, I would not be disappointed in the least.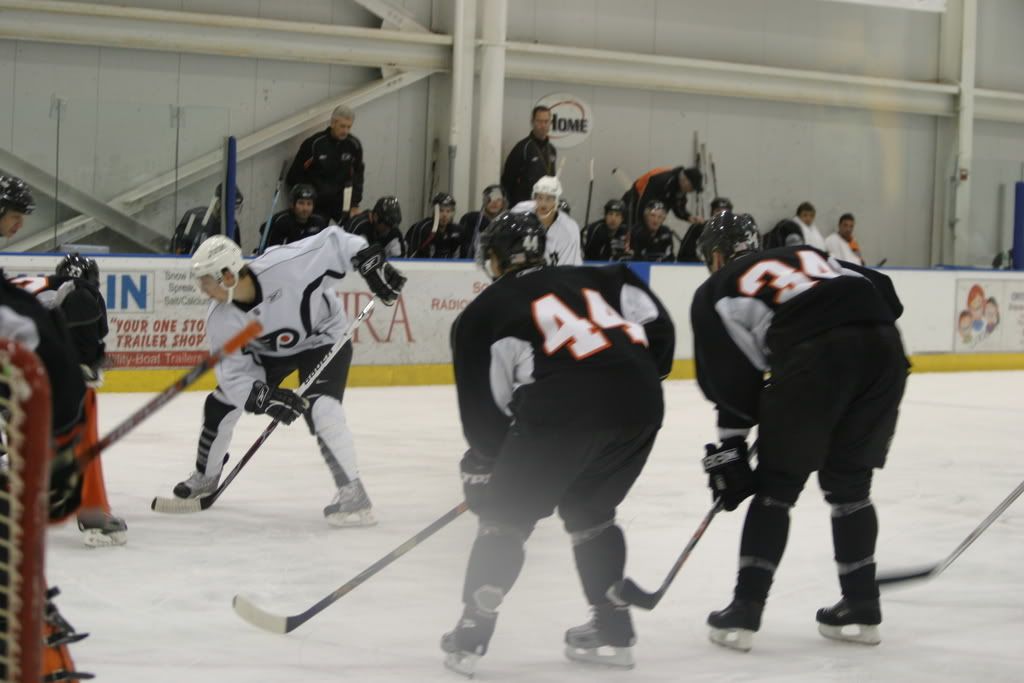 The other half of this top pairing was
Kimmo Timonen
. He is listed at 5'10" and 194 pounds. Sami Kapanen is also listed at 5'10" and I don't think Timonen is as big as Sami is. Size notwithstanding, I was thoroughly awestruck with Timonen's speed, passing ability and puck handling. I have not seen a Flyer defenseman move with the puck with that much authority, since early Rico. He is a burner and will be fun to watch on the rush. More importantly, he made nice outlet passes to winger in-stride on the stick. Been a while since that happened on a regular basis on the breakout. I am very excited about the top pairing.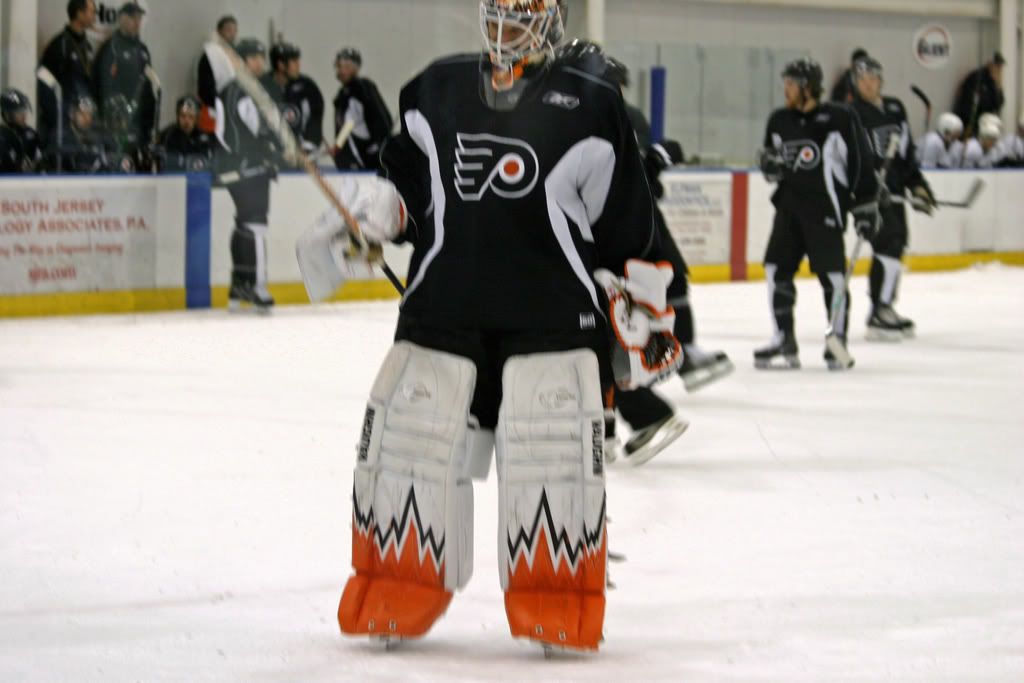 Lastly, I wanted to see
Marty Biron
and get a sense of how he looked as the season approaches. He has some funky, new pads with flames all over them. He seemed very quick on his skates and moved extremely well. He is very calm in net and made some non-routine saves look rather routine. I know this statement might be proven to be the ramblings of a lunatic, but I have not felt as comfortable with our goalie situation since the Hextall days. I think Marty Biron is the real thing and will surprised a lot of the hockey world.

K-G-B
Obviously, the team that won the "Clarke Cup" was Team Snyder that had the
KGB line
-
Knuble, Gagne and Briere
- and Brian Booooooooooocher in net. I could not be happier for Brian Boucher. He was always well liked in Philadelphia and I wish the best for him as he plays for the Phantoms and waits his turn to reenter the NHL. I feel very comfortable with Boosh backing up Niitty and Biron.
The
KGB line
is going to set some goalies on fire this season and make them feel very silly. I was not able to see them together, as I had to get home to a 9yr old with a sleepover buddy, but I am so excited to see their chemistry and the realization of the immense talent that this line possesses. They will be special.
I'm just like a kid coming down the stairs on Christmas morning and the real present of the playoffs is hiding just behind the tree. We need to unwrap some others, first, to get to it. But it is there with a huge orange and black ribbon on it.
Thanks for reading.
SYF