The Season of Giving
Yes, yule log is on the fire (whatever a yule log is), the numerous fruit cakes from relatives are slowly decomposing, countless last minute gifts have yet to be purchased and the X-mas trade freeze is, but, hours away. For most of us, the Holidays are upon us.
For the Flyers, however, T'is the Season of Giving.
The Flyers have been in a giving mood for the last six days, with countless opportunities to dole out points to the Yotes, Devils, Canes and Habs. Yes, the boys from South Philadelphia have been downright cheery in their willingness to commit costly errors in their own zone, take ridiculous penalties at inopportune times, squander leads, play with no killer instinct and take the ends of periods off. I don't know whether it is the time of year, or if it is just an abundance of goodwill towards men; but, I do know that the Flyers need to get their proverbial act together or else they will be looking up from the bottom of a highly competitive division. When 7 points is the margin for error from first place to last place, there is no margin for error. The Flyers have shot to the top of Santa's
"Nice to Opposing Teams"
List.
The goaltending has been fair, forechecking lacking, the defense has been confused, the penalty kill has been killing our team's chances of winning and turnovers have become an all too frequent reality. If you can't outshoot your opponent
and
keep steady offensive pressure
and
make poor clearing passes
and
look lost on defense - then the puck will end up in your net and you will make Santa's List...the abovementioned "Nice to Opposing Teams" List.
The Flyers hearts need to get two sizes two small. The Orange and Black need to get a little
in them. Not with fake reindeer horns or cut-out Santa suits, but with good, old-fashioned work. They need to win mano-a-mano battles to the puck. They need to regain that passion that made each loose-puck situation a test of their personal manhood. They need to play the entire game like they are losing by one goal with a minute left. They cannot take shifts, let alone periods, off. They need to play like their team's fortunes - not their specific jobs because that does not speak to unity - are on the line. Each player needs to look himself in the mirror and ask why they are playing this great game and whether it is for the name on the back or the
logo on the front.
Harry S. Truman, the 33rd President of the United States, was an 11th hour addition to the Democratic ticket in 1944. With the health of immensely popular, three-term President Franklin D. Roosevelt failing, the Democrats chose a centrist Senator from Missouri and the Roosevelt/Truman ticket won in a landslide. With FDR's death on April 12, 1945, Truman served only 82 days as Vice-President but went on to distinguish himself as one of America's top ten best Presidents - dealing with such complex issues as use of the atomic bomb to the emergence of civil rights to the unpopular war in Korea.
The folksy, and often colloquial, Truman uttered many endearing phrases during his two terms as Head of State. One of the most famous is "If you can't stand the heat, you better get out of the kitchen."
The surprising and wonderful move by Paul Holmgren (still my vote for GM of the Year) to cut ties with enigmatic and troubled forward Ben Eager and bring back defenseman Jim Vandermeer shows just that. Eager could not stand the heat. When the heat went up, the stupid penalty, ill-advised turnover or coming up painfully small in a dustup would rear it's ugly head. He got moved out of the kitchen by Homer in what, I would fervently hope, might be a further move to solidify the heavyweight position on this team. The names have been bandied about: Parros, Godard, Boll, etc. I would not care which of them the Flyboys might get. I just want one of them. What we got in Vandermeer is a steady defenseman, which in the state of current 6-8 d-men is not something to sneeze at. He can give you 15-20 minutes a night and will not kill you. He brings 9 points, 44 penalty minutes and a plus 3 from a very young Hawks team to a Flyers team desperately needing help on the backend. Great move Mr. GM of the Year!
Welcome back to the Kitchen Mr. Vandermeer.
The Flyers need to turn things around against the equally inconsistent Buffalo Sabres. Yes, the Sabres are only 16 and 14. Yes, they have not played to their potential. Yes, they are a young team. All of those things notwithstanding, they still
KILL
the Flyers every year. Good luck boys...you might need it. Now would be a really good time to make Santa's "Naughty to Opposing Teams" List. Get Grinchy with it...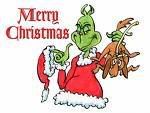 Thanks for reading...
SYF