"The Code"
If you were to look in the Webster's Dictionary of Hockey for a definition, you would probably come up empty. If you were to ask anyone in the game, they might knowingly smile but likely not cough up to much. Some might. Ask a diehard fan what the Code means and he would likely be able to put some walls around it.
Action and Reaction:
Those walls, in my opinion, begin to equate to something nearing Sir Isaac Newton's Third Law of Motion - "All forces occur in pairs, and these two forces are equal in magnitude and opposite in direction." Newton's Third law of motion can be paraphrased to say
"For every action, there is an equal and opposite reaction."
Surprisingly, that scientific notion is not far off from my view of what the Code actually means. It is about an action and a response. You run at my goaltender, I am obliged as a defenseman to take a swing at you - no ifs ands or buts. You try to injure my star player, you are a marked man will be dealt with. Action and reaction.
Like Newton's Third law, there are a set of mutually understood principles that guide the actions and reactions of players among and against one another during the course of a game. It dictates what can, cannot and must not be done and what the acceptable and demanded reaction is when a player crosses the line in order to self-police the game. The Code determines why and with whom a player must fight and is drilled into the heads of every player that laces up skates for most any hockey team above a collegiate level.
What you want...
The immortal Aretha Franklin also had a hand in summing up what the Code means in her famous seven letter song...R..E..S..P..E..C..T. The Code says that the game of hockey is largely about respect. Respect is a funny thing to qualify or quantify. You might not know how to describe it but you know when you see a lack of it. Players going into the corners with their elbows up, leaving your feet in order to make a hit more devastating, crosschecking to the back of another player, sticks continually up around the face - are all signs of a lack of respect from one player to another. Players respecting each other allows referees to put away the whistle, let the skilled players play and cut down on the unnecessary injuries that rob fans of seeing star players and can shorten or end careers. The converse, unfortunately, is also true.
Steve Downie's sucker punch to Jason Blake's eye with a referee in between the two is a textbook example. Tim Panaccio's excellent blog on the front page
http://v4.hockeybuzz.com/blog.php?post_id=12365
deftly explains why what Downie did was not only against the Code, but also borderline cowardice. What Downie did was show not only a lack of good judgement - score, place and time - but also a deep lack of respect for the player and what KIND of player he was. Downie did not go after Tie Domi, he went after a skill player and did so in a horribly unprofessional manner.
Adhering to the Code means more than just understanding the nature of respect, but also understanding the "why" of necessary violence.
Fighting is as much a part of hockey as a puck and a stick.
The use of necessary violence as a means to self-regulate the game is as old a notion as chasing a rock across a frozen pond with some sticks and trying to pick a corner. For the most part, hockey's history shows that this honor-bound self policing actually worked.
In the past, if someone like Steve Downie disrespected the unwritten rules and took the swing at non-fighter Jason Blake - the answer was to send out The Hammer, Tony Twist, Bob Probert, Brad May, The Grim Reaper, etc...on the next shift to meet out swift and sure hockey justice. The refs knew what the motive was, they knew the rules and how the Code was allowed to be interpreted within those rules. Action and reaction. I can imagine no deterrent stronger than seeing Bob Probert coming at me with bad intentions because I took a shot at Stevie Yzerman's face after the whistle.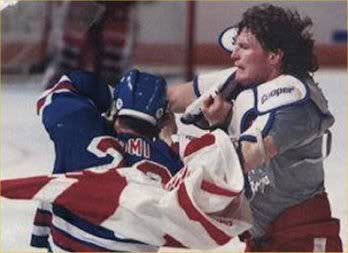 Fighting is not only about retaliation, though the Code dictates that retaliation is not only mandatory but earns the player a coward label if not acted upon. Fighting has its place to ensure that the game is brought back to an even keel and that, once the offense is paid, that there is no further continuation of hostilities. A debt is owed and paid in full. That is the nature of honor in this system. Two guys might pummel each other in the second period but might just as well be having a few adult beverages after the game looking like old pals. They were doing their jobs as the notion of honor said they must. Once it was done, it was done.
Rule 56
In an effort to "clean up the game" the NHL rolled out Rule 56 - better known as the dreaded "Instigator rule." Rule 56 states
"that a player who is an aggressor in an altercation...who is deemed to be the instigator of an altercation shall be assessed an instigator minor penalty, a major for fighting and a ten minute misconduct."
This means that the team that was retaliating would now be man down for two minutes and without the services of that player for 15 minutes. The victim is penalized and the initiating team who broke the Code gets a power play. Something is wrong with that. The thinking, I am sure, is that rule 56 is intended to stop the immediate retaliation of one team against another and thereby reduce the amount of fighting - against which the NHL front office has to defend itself every time SportsCenter leads with a hockey fight or a Steve Downie incident.
While the instigator rule is effective, in that few teams would be foolish enough to knowingly put themselves in the crosshairs of Colin Campbell by sending out a goon to "set things straight," it fosters subsurface anger that ultimately can result in something like the Vancouver Canucks' Todd Bertuzzi sucker punching Colorado's Steve Moore in the head from behind after a clean, brutal hit against Markus Naslund back in 2003.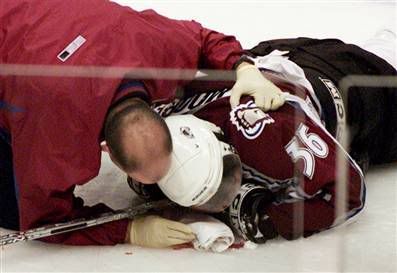 The instigator rule did not allow for the Canucks to "deal" with what they thought was a shot against their Captain and star player. Brad May never got on the ice to deal with Steve Moore and the objection to the Naslund hit. What we got was a cheap shot that was far more damaging to the sport, because of its prominence on SportsCenter, than any fight could have been. Retaliation of that magnitude only causes greater PR damage to the league than if the proper combatants were allowed to do their jobs according to the honor system. As long as the "instigator rule" intends to force refs to call more penalties, rather than allow the game to regulate itself, the end result will continue to be an increase in cheap shot artists who practice their trade with increasing efficiency. As long as enforcers are not allowed to deal with an honor infraction immediately, instances of chippy play, slashes to wrists, sticks in the face and offenses that are not called by the ref - though everyone in the building saw it - will only increase. It will also permit an entire class of player, who has limited physical skill but is a perfect agitator with the ability to take skill players off their games by hounding and physically abusing them without fear of retaliation, to exist in the league. Jarko Ruutu comes to mind. Wouldn't it be sad if Sidney Crosby was not able to participate in the Winter Classic because he had been clipped under the faceshield and cut his eye from a cheap shot by Tyson Nash? If not Crosby, then AO or Danny Heatley or some other star who the fans could not see because some cheap shot artist broke his wrists with a viscious slash? Rule 56 prevents the players from taking back the game. It stops the system from policing itself. It encourages low skill players to do as much damage as you can but not get caught. Oh...and if you do, it is likely just a two minute minor. Maybe a small fine. And if the other team does send out someone to dispense justice, that team is penalized with an instigator minor and could lose the game because of it.
Relevence?
Is the Code relevent? As long as the game is more worried about its public image than in the history of the game, the honor system upon which it was founded and the health and immense skill of its star players...then, No.
Without law there is lawlessness. Without honor there is a lack of respect. Without respect there is no sense of the rich history that the game of hockey has. Without a respect for and holding sacred the history of the game...why would any kid want to stay out past dinner to freeze his nose off chasing after a rock with a stick across a frozen pond?
While I apologize for the melodramatics, the underlying point remains valid.
Let the players police the game as bound by the unwritten laws of honor and the Code.
Will it mean increased fighting? Yes. Will it also mean that skilled players will be allowed more freedom to use their incredible talents? Absolutely. Will it deter those who would cheap shot others players knowing their medicine would be waiting the next time they touched the ice? I hope so. Would it mean a reduction in the slashing, stickwork and chippy play that seems to mar many of the games today? God, I hope so.
Let's give the sport back to those who play it and rely less on those in pinstripes to legislate morality. This is a glorious, brutal and amazing game rich in history and founded on notions like honor and respect. Let the players play.
Thanks for reading...
SYF