With the 19th pick in the 2008 draft the Philadelphia Flyers are proud to select...
18 year old Luca Sbisa.
Born January 30, 1990...just 24 hours before the first McDonalds opens in Russia.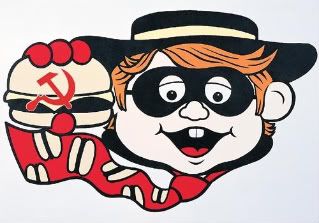 (
Da Comrade Hamburgler - would you like fries or the gulag with that?
)
19th pick in the 2008 draft.
Heck, even his draft pick is older than he is.
Luca Sbisa. Can't drink (legally). Can barely drive and yet has been so mature, so poised and seemingly so ooooooold in the preseason that the powers-that-be are having a hard time sending this young man back to Juniors. They are having an even harder time keeping this teenager off the ice.
#47 Flyers defenseman - Luca Sbisa has done the little things well. He has played the body with the seeming confidence of someone with actual NHL experience. He has taken a hit to make the proper pass - no small feat at the NHL level, especially for an 18 year old. He plays the game with grit, sees the ice well, can skate the puck out of trouble and has shown an ability to play in the corners in the WHL.
How does any of this translate into a rookie defenseman performing over an 82 game NHL season with the speed, skill and experience of the competition night in and night out? Very few first round d-men ever get the chance and those who did, have not fared well.
Someone whose opinion I respect immensely - i + Scoop - explained that young defensemen need time to learn their trade and usually take two to three years before they even get a cup of coffee at the NHL level.
With that in mind, Luca might not even get to hold the cup...let alone take a sip. But only time will tell...and as of this writing...he is still on the team with the dropping of the puck just days away. To Sbisa, or not to Sbisa...that is the question.
Thanks for reading...
SYF
Go Phillies! Beat LA!
Go Red Sox! Beat LA! (ok Anaheim)