But if you try sometimes you just might find you get what you need
Mick and the Boys beautifully expressed the quandary the Flyers (and Pens) find themselves with a four day layoff until the puck drops to begin to decide the Eastern Conference Champion. I am quite sure that Marty Biron, Danny Briere, Mike Richards, Kimmo Timonen, Sidney Crosby, Evgeni Malkin, Marc-Andre Fleury and Marian Hossa would rather get back on the ice tonight and settle this thing straight away. But alas, the ratings wizards at the NHL have decreed that they wait until the weekend before letting rubber fly.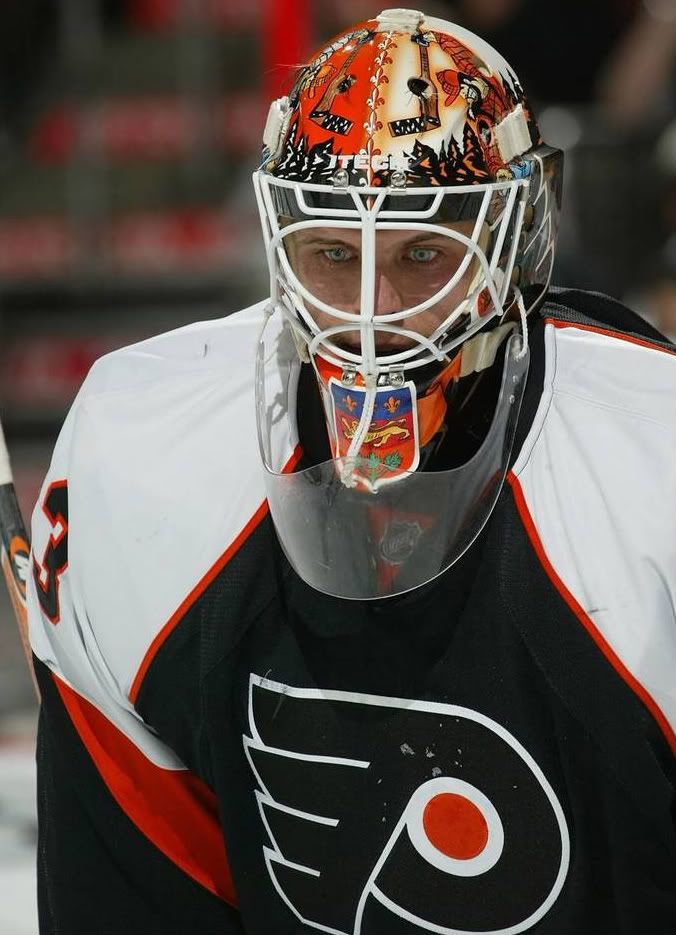 From a Flyers perspective, Marty Biron should be playing
right now
. To borrow from Mr. Loaf, he has been glowing like the metal on the edge of a knife since game 7 in Washington and making a convincing argument that he should continue channeling Ron Hextall.
Biron has gone from nearly losing his starting job to Antero Niittymaki to becoming a media darling after almost singlehandedly dispatching Montreal's finest.
What a wild ride.
While his forced break being a benefit might seem as counterintuitive, the one thing it will do is give his aching body some well needed rest (and time to actually SEE his newborn daughter). In seven games against Washington, he faced 128 shots and came away with a 4-3 record while sporting a .908 save percentage and a 2.67 goals against average.
Not too shabby
. But when compared to what occurred against the Canadiens, it looks like Pee Wee.
Montreal put up 177 shots in 5 games
...think about that. In two fewer game, the Habs put rubber on net 49 more times. Not ONE game in the Montreal series did he see less than 34 shots and surrendered only 14 goals throughout. His save percentage rocketed up to an amazing .921 while maintaining a more than respectable 2.71 goals against average. Long story short, he was a human pinball machine. Not only did Marty Biron survive, he thrived. It seemed like the more pucks he saw, the better he was. But the man needs a rest...even if it is a forced one.
Will Biron be able to withstand the most potent offense in the game today? Will he be able to stop not one superstar, but two (and a half)?? Will he be able to keep the likes of Georges Laraque and Jarkko Ruutu from getting in his kitchen the way the Flyers did to Carey Price? Can the Flyers play sound defense in front of him to combat the slick skating Pens? Can Biron be expected to perform at such a high level every game, sometimes being asked to win the game on his own? I dunno.
If I were Marty Biron, I might not want to be forced to rest. Buy as the song says, "
if you try sometimes you just might find you get what you need
." Sing it Mick...
Thanks for reading...
SYF