Just returned to the States from 6 lovely days in San Juan, PR.
My wife, Kids and I decided that, after two weeks of familial sickness over Christmas, that a change of scenery was just what the doctor ordered. So, we jetted south to San Juan on New Year's Day and holed up at the Ritz Carlton.
My blood is still thick with the glorious creations of the rum gods - the Mojito, the Pina Colada and the Mai Tai (in no particular order of preference). The weather was a glorious 83 F and a constant 15 mile an hour breeze to allow the child-thrown sand to stick to you like glue. The kids had a ball and just hanging out with them in a relaxed vacation atmosphere made the trip complete - oh...and that guava/papaya enzyme facial didn't hurt, either.
Needless to say, the closest I came to hockey news in San Juan was something that looked a lot like...
Trying to get hockey news in Puerto Rico was as unlikely as
...no wait...
finding her way into
(ok, ok...smacks own wrist - sorry)
Winter Classic
: I missed the wonderful Pens/Sabres game but by all accounts it was flat-out magical. Didn't Bettman fall into a pile of sh*t and come out smelling like a rose? I hope he realizes how lucky he truly is. To all those lucky enough to see the game live -
I envy you
. I'm sure that was a lifetime moment. While I was not upset at being on the beach by lunchtime, I am sure as hell envious of those who saw it in person.
Sid is just a freak of nature...nuff said.
Flyers
: Riding a three-game win streak the Flyers rode right into a wall - that wall named Martin "freakin-devil-incarnate-Flyer-killer" Brodeur
God, he just kills us - no matter how hot we are at the time. 3rd loss this year and 11 straight against the demons from up-the-turnpike.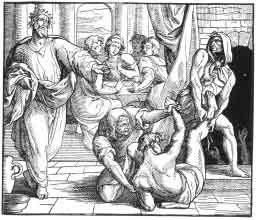 When, oh when, will the hockey gods hear our weeping and gnashing of teeth?????
Then, Mr. Everything and Mr. Niitty deliver the Flyers from the Leafs for their second win against the Torontoites in 10 days. Bravo to them both but even more kudos to Niittymaki who turned away a club record 56 shots on net. He earned his post-game massage there. Make it a double.
However, no good deed goes unpunished. Flyers players have made a maddening habit of finding new and unusual methods of hurting themselves.
Enter white-hot Joffrey Lupul, who gets taken out on a brilliant, legal and brutal Derian Hatcher check on Alexander Steen. Lupul now has a spinal cord contusion with numbness in the hands - scary stuff. He will not see the ice for quite a while.
Mr. Kapanen...you're next. Right. Let's see...hit him in the face with a Mike Richards shot to the tune of 25+ stitches. Riiight.
Mr. Downie...welcome back. Meet Mr. Blake...I see you've met. That guy in the striped shirt in between you two...that is a referee. When he is breaking things up ...you aren't supposed to hit the other guy. Make a note.
Gots to get to bed now...real world stuff stinks, but oh well. You have to come back or it's not called vacation.
Thanks for reading...
SYF