Killer Penguins with a Bad Attitude
While I am a little saddened at the way the Flyers went out, they were clearly dominated by a superior team that had a chip on its collective shoulders. The Pens were hungry, they won every puck possession battle, got the lead early and smelled blood in the water from 2-0 when MAF stole the show with a killer sequence that shut the door on the Orange and Black. After that it was just waiting for the clock to run out so Handshake could happen. Still the coolest ending in sports.
Congratulations Penguins and the Pens fans. You have a great, young team and we hope to repay the favor really soon. Play the way you did tonight and the West could be in a whole lotta trouble - no matter who the opponent. Congrats Pens...you earned it!!!!!!!
Nothing left to do but smile, smile smile...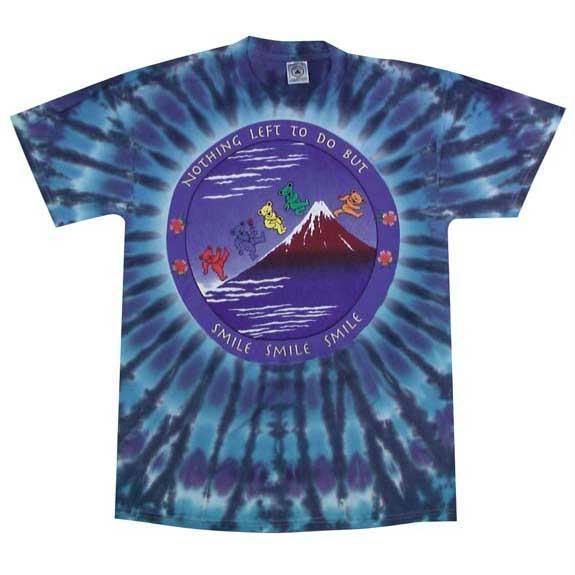 Just like the line from "He's Gone,"one of my most favorite Grateful Dead songs, says, "nothing left to do but smile, smile, smile." Flyers fans...just one word -
Smile.
...the future is bright. Does it suck any less being blown out 6-0 than if it were a hard fought 4-3 loss?
I'm not sure
. Does it still suck, no matter the score?
Yes.
As a professional athlete, who spends their entire life trying to win at the highest level, nothing sucks more than losing. As a passionate fan, the same applies.
Feeling the lowest low when they lose is the price you pay when you invest your heart and soul into following and rooting for a team that you love - so that when, and if, they win, you can experience the highest of the highs. But make no mistake, in any one season there is an overwhelming chance that your team will not win the "big one" - in this case, the chance to drink from the chalice of hockey immortality - Lord Stanley's Cup. I've got some not so surprising news for you...there will be 29 other teams who will not win it either.
Smile.
What the Flyers accomplished this year is nothing short of amazing - there were 26 other teams home watching while the Flyers had the opportunity to play for the Conference Championship.
The fact that the Flyers lost to the best and highest ranked team in the Eastern Conference is no reason for any player or fan to hang their heads. The Flyers were playing meaningful hockey in May, having beaten the #3 and #2 seeds to get to a point of losing to the #1 seed in the East.
Smile
.
Who could have imagined that the Orange and Black would make it to the ECF? Not barely making the playoffs and going out in round 1 - which would have been
FINE
with me at the start of the season with the amount of rebuilding that had occurred during the 2007 offseason. But winning two rounds against teams that many "pundits" felt as though the Flyers had no business playing in the first place.
I am fairly certain that
Karnack the Magnificent
would have had significant problems coming up with:
Answer: A city often filled with hot air, a city where hockey is religion.
Question: Who would the Flyers have to beat in order to lose to the Pens in the ECF?
If anyone were to say to you that they knew the Flyers would win two rounds and end up in the Conference finals one year removed from a 22 win embarrassment of a year...my only advice would be,
check for your wallet.
I have been steadfast in my belief that NONE of this would have been possible were it not for the incredible job GM, Paul Holmgren, and Comcast-Spectacor's President and COO, Peter Luukko, did in positioning the Flyers during the end of the 2007 season and into the off-season to allow them to achieve what was certainly one of the most dramatic turnarounds in modern sports history.
Let's face it...the Pens were a better, deeper team.
They were a better team all year, they were a better team in the playoffs and they were a better team in Game 5.
Smile
. The Flyers have a great young nucleus to which they can build around that should provide competitive hockey for many years to come. Can they put together enough pieces to drink from Lord Stanley's Cup?? I have no freakin' clue. What I do know is that Paul Holmgren (my, without a doubt, "GM of the Year" ) and Management at the highest levels of ownership, Mr Ed Snider, are committed to winning. They are committed to winning sooner than later...they are impatient about it. I love that as a fan. Philadelphia has a proud hockey tradition and I firmly believe that the organization is committed to doing what it takes to win in the shortest amount of time possible.
Let's put this year into proper perspective, take a walk down amnesia lane with me and compare the last two seasons - 2006/07 and 2007/08 - to see how vastly improved this team was in just one short off-season and the level of commitment displayed.
07 Wins - 22
08 Wins -
42 (+20)
07 Losses - 48
08 Losses -
21 (-27)
07 OTL - 12
08 OTL -
11 (-1)
07 Points - 56
08 Points -
95 (+39)
07 Goals/Game - 2.60
08 Goals/Game -
2.99 (+0.39)
07 Goals Against - 3.62
08 Goals Against -
2.77 (- 0.85)
07 PP% - 14.1
08 PP% -
21.8 (+ 7.7)
Pretty dramatic turnaround, huh? The Orange and Black have come a long way since their embarrassment of a 2006-07 season and many of those accolades should, correctly, be laid at the feet of John Stevens and his very able assistant coaches. There is real reason to hope that those gaudy increases were not a flash in the pan, but a real step forward in Philadelphia's march toward a championship. Again, I say
smile
.
Was the 2007-2008 season all Pie in the Sky? Heck no.
We lost our first line left winger to numerous concussions and had to have him shut down for the year. Not only is there no guarantee of his ability to play injury-free next season, but also the amount of time it might take (all summer) to figure out his status could seriously handcuff the team in managing the cap were he not able to perform symptom-free. At numerous points in the season that was, the Flyers had enough mood swings and personnel changes to make Sybil look like a Stepford Wife. This team ran off huge winning streaks, followed by excruciating, franchise tying losing streaks. The Flyers' defense was exposed as being too old and too slow and major changes to its composition are a real possiblility.
They were up, down and everywhere in between. But that is part and parcel with the growing pains associated with a young team and one with significant turnover from the year before. Youth is one of the things that Pittsburgh and Philadelphia share in common. The Pens' young guns have been splashed all over the media, and with good cause; but, the Flyers are not without some serious young talent of their own. It is highly likely that the Flyers will get younger still in the off-season.
I am not ready to tackle a complete list of who might stay and who might go.
Jeff Carter
is a no-brainer and must be kept at, nearly, all costs.
R.J. Umberger
...I am not so sure. I might take a flyer, if you will, on the #1 draft picks if the price of poker is too high and keep the pipeline flowing with young talent - much like Pittsburgh did when they were so dreadful for all those years. Randy Jones is a piece worth keeping, assuming the money is right. As mentioned,
Simon Gagne
is a real worry. My only hope is that he figures out if retirement is a real option much sooner than later, so the Flyers can figure out the appropriate move by way of trade or free agent.
On deck is a full year of Ryan Parent, names like Ryan Potulny, Stefan Ruzika coming along and youngsters like Andres Nodl, Michael Ratchuck and first round pick, and QJMHL Playoff MVP, Claude Giroux - who scored a record 51 points (17g,34a) in just 19 playoff games for the Gatineau Olympiques. Giroux might just be the most interesting piece to be played out over the summer - the young man has world class skills, just ask the netminders of the QJMHL- and could really push to be a factor in the 2008-09 Flyers roster. But there is much to occur before that decision is made
For now, I just want to sit back and bask in the glow of the remarkable season that was. The Orange and Black gave us one hell of a ride. I am sorry to see this season end, but am ever more hopeful that the GM and Management will keep the ship on course towards the ultimate goal of bringing Lord Stanley's Cup back to the City of Brotherly Love.
Cat on a tin roof
Dogs in a pile
Nothing left to do but
smile, smile, smile

Thanks for reading...
SYF