What a long strange trip it's been...
OK...I have to admit, I've been saving that one for a special occasion.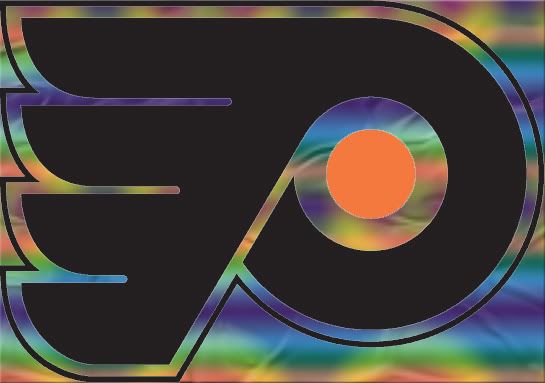 As Jerry and the boys stated in their rock anthem
Truckin'
,
"Lately it occurs to me, what a long, strange trip it's been."
This 8 game "trip" was both
long
- longest of the year - and
strange
- as in we saw shades of last year in horrible team losses contrasted with outstanding team play and amazing individual effort.
After the first three weeks of the season, the Flyers had six wins in their first seven contests. They were scoring with regularity and relative ease, with 27 goals in seven games. The defense was playing solid hockey, the PK was not getting scored on and actually doing some shorthanded damage, the PP was clicking and the goaltending was outstanding. The Flyers had the best goal differential in the league and were playing with grit. Marty Biron posted back-to-back shutouts and was the first star of the week for the week ending October 21st. Memories of last year's abysmal record and the bad habits that got them there seemed to be a thing of the past. The Flyers were even challenging the Senators for the media spotlight in the East.
All was well...or was it?
Yes, the team was scoring. Yes, the defense and goaltending were not allowing goals. But, there were some troubling storm clouds on the horizon. The Flyers were outshot 35-24 in their first and only loss to Edmonton (game 2). They were terribly outshot 38-18 in a 4-0 win against the Devils (game 6) and outshot 44-30 in their next game against the Hurricanes (game 7) that ended in an overtime vistory. In those three games, the opposition put 117 shots on net while the Flyers had only 72 - a differential of 45 more shots on the tandem of Biron/Niittymaki. While the rest of the games not mentioned had shot totals that were more even, the trend of being badly outshot in almost half your games and having to not only make your shots count, but also depend on stellar goaltending as the norm is walking a dangerously fine line.
Then came the roadtrip.
Florida
- Gagne takes a Bouwmeester elbow to the head and leaves the game; Olli Jokinen put on a clinic by scoring the first two goals in the game and buries the Flyers as they lose 4-3. It was not as close as the score might indicate.
Shot totals: Panthers - 42 Flyers - 23
Tampa Bay
- Gagne (dizziness) and Hatcher (swollen knee) sit out. Niitty's first game and gives up 5 goals on 26 shots. He seems lost out there. Lightning kill us - especially in their building where they started the season 5-0. Flyers get 23 shots on net but only 2 goals.
Shot totals: Lightning - 26 Flyers - 23
Boston
- Mike Richards scores a shorthanded goal to tie a 1-1 hockey game. Joffrey Lupul slam dunked a pass from Danny Briere on the power play to end the scoring. Marty Biron stood on his head and stopped all 38 shots he saw.
Shot totals: Bruins - 38 Flyers - 28
Montreal
- Worst outing so far this year. Orange and Black sleepwalk through another first period - outshot 15-6. Flyers give up three power play goals and one shorthanded goal on the way to a 5-2 rout. Habs pepper Biron with 41 shots. Mike Richards scored a power play goal in the first to knot it at one but it was all habs after that. Scottie Upshall scored a PP goal at the 19:32 mark of the 3rd period in his first game back this year - but it was too little too late. The O&B could not match the intensity of the crowd or the Montreal players. This was bad.
Shot totals: Canadians - 41 Flyers - 19
Washington
- Caps score first on Niitty and outshoot Flyers 14-6 -
here we go again
. Briere pots first goal in nearly a month for his 5th. Richards scores team leading 8th goal, then drops the gloves against Brooks Laich - who has three inches and 10 lbs on the future Captain. Umberger scores a power play goal for his second. Niitty wins first game since February, 2007 by a 3-2 margin.
Shot totals: Capitals - 26 Flyers - 29
New York
- Another disasterous first period - outshot 22-11. The Henrik Lundqvist show. 2-0 shutout on 30 shots. Jagr and Shanahan do the rest. Richards tosses the fists with Avery - he is Mr. Everything. Flyers fail to match the instensity of the Rangers - much like the Montreal game.
Pittsburgh
- Stevens shakes up lines - Briere to 3rd and Richards center's top line. Young guns on three different lines produce - Carter, Lupul and Richards all score. Penalty Kill goes 7-for-7 and Crosby is "held" to just one assist by tenacious team defense. Biron wins his 8th of the year. Pens went 6-0-2 against the Flyers last year, so this was payback. Flyers left it all on the ice tonight.
New Jersey
- Tough spot. Jersey's home opener at "the Rock" and the final game of a grueling road trip - Philly was never really in it. Devils carried the play and the Flyers looked out of gas mid way through the first period - Devils score 3. Biron pulled in the beginning of the 2nd period off a hideous goal. Niitty comes in and does a decent job in mop-up - stopping all 15 shots he faced. Devils win a snoozer 4-1. Gagne still feeling "dizziness" - this is not good.
Shot totals: Devils - 39 Flyers - 14
What we learned:
The Flyers have allowed themselves to get into a pattern of sleepwalking through the first period. Getting outshot by a two-to-one margin will kill you. This is shades of last year.
The Flyers rely too heavily on the stellar goaltending they are getting from
Marty Biron.
The man is only human, but is playing like he has an "S" on his chest.
Mike Richards is a flat out Rockstar.
He hits, plays quality minutes on PP and PK, throws the fists with anyone, scores big goals and plays with a nasty edge.
Simon Gagne's health concerns me deeply.
This team needs to play better defense to limit shot chances and cycle more on offense to take pressure off of the goalies.
Thank God this roadtrip is over.
What a long, strange trip it's been...
Thanks for reading...
SYF