If you listen carefully, you just might hear the sounds of knees jerking in a building in New York City. The powers that be in the NHL are cringing right now at another prime-time, graphic injury to one of its young players, perhaps even a budding star, during its showcase playoffs.
Those same powers that be are also probably heaving a huge sigh of relief that the name on the sweater was not Malkin or Crosby, but I digress.
The redirected Hall Gill shot that struck the young, stud defenseman, Braydon Coburn, under the left eye in the opening period of Game 2 in Pittsburgh was nothing short of tragic. If you are a member of the Orange and Black faithful, it borders on something between the worst of all possible luck to a Billy Penn's Hat-type conspiracy theory.
<object width="425" height="355"><param name="movie" value="
http://www.youtube.com/v/...t;</param><param
name="wmode" value="transparent"></param><embed src="
http://www.youtube.com/v/EkJ6iaL-iTc"
type="application/x-shockwave-flash" wmode="transparent" width="425" height="355"></embed></object>
As I watched blood seep onto the ice, I looked to confirm that he was not wearing a shield. My immediate reaction was, "I bet that might not have happened if he was wearing a visor." Followed quickly by, "the NHL needs to make shields mandatory." Upon further review, I am surprised at myself for such a reaction.
This is not an uppity game of tiddlywinks, a foul tempered checkers match or even a slightly unfriendly game of "Red Rover." This is the NHL, people!
Pucks are shot between 80 and 100 miles per hour with regularity. Defensemen lay their bodies out - willingly I might add - to try to block these 1x3" hunks of vulcanized rubber just so they can try to keep that shot away from their netminder. Physical specimens, standing 6'7" on skates, throw their 220+ pound bodies around with bad intent every shift. Sticks get up, elbows are thrown and tempers flair. It is a rough sport with some very tough customers. What happened to Braydon Coburn is a shame, but it should not and must not send the knee of some safety-nazi flying though the desk top.
What happened to Coburn was an accident.
It was a deflection. No matter how tragic it may be, it was still an accident. Was it a preventable accident?
I defy anyone to definitively prove that if Coburn was wearing a visor that the injury that occurred
would
have been prevented. Could it have? Maybe. Should he, or any NHL player, have been smart enough to not even think of taking the ice in this league without a visor? That is a personal choice -
I know I would not even think about skating in a game without one.
But that is my choice. Should visors be made MANDATORY by the NHL? No way.
This wonderful game of ours is as brutal as it is graceful. What would be a tragedy is if the league stepped in every time there was an accident to regulate out the possibility of it occurring again. It is not too far fetched to imagine hockey players skating around looking like this: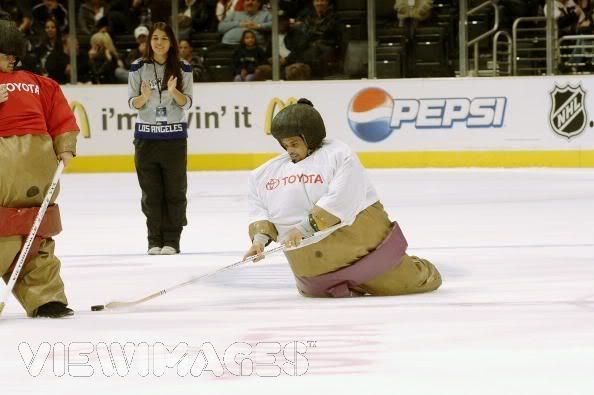 The league has been pushing for mandatory eye/face protection for years now. The Union would not consider it as part of the collective bargaining agreement and, in fact, a large portion of the NHLPA's membership was in opposition to any such language saying that the issue is one of personal choice. Some numbers show a percentage of players not wearing protective visors to be somewhere between 60-70%. Whether that choice has its roots in an image of manliness and not hiding behind a visor, to not being able to see the ice as well or whatever, until or unless the NHLPA membership changes its collective minds, the choice for players to wear or not wear visors
needs
to remain just that,
a choice
.
If you are serious about wanting to eliminate eye and facial injuries in the NHL, then that leaves you just one option - mandatory full face shields. I am pretty sure that the Union is not ready to go that route, yet. It may happen. But not because of Braydon Coburn.
Will Braydon Coburn suit up in his first non-injury game next season wearing a visor? I am interested to find out the answer to that question. We will have to wait and see. I just don't want someone jerking a knee to decide that for him.
Thanks for reading...
SYF