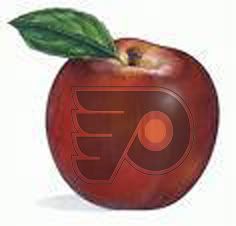 Wow...words can hardly describe the effort and the result of last night's game in the Big Apple.
Flyers give up two quick goals to ...hmm...let's see. Perenial All-Star Jaromir Jagr? Nope. First part of the dynamic duo hired guns, Chris Drury? Nuh uh. Must be the other hired gun, Scott Gomez? Wrongo. How about that offensive D-man Michal Rozsival? Bzzzz...thanks for playing, you'll receive a lovely parting gift.
It was none other than "Rocket" Richard candidate, Ryan Hollweg. This was Hollweg's first multi-goal game ever. EVER. Besides having a taste for illegally crosschecking people in the back and, in particular, hitting from behind, this no-talent clown had 3 goals, 5 assists and was a whopping -20 in his three year career.
Ryan freakin Hollweg...you
got
to be kidding?
You HAD to look at the screen at the end of the first and just shake your head. This looked like it had all the earmarks of a hideous letdown after a good win against the Thrash. The Flyers looked slow to the puck. They were getting beat in one-on-one battles. They played with, what seemed, mild interest and had zero momentum as they limped into the room down two.
Whatever John Stevens gave them at intermission - methinks the mysterious
Chemical X
- it sure worked. I just hope he has enough of it bottled for the second half.
The Orange and Black came out smoking hot with a 5-on-3 continuation of a Ranger puck over the glass and a broken stick penalty. Forty seconds into the 2nd, Mike Richards nailed a shot through traffic that looked like his 20th of the season, but they gave credit to Mike Knuble for his 12th - team leading 10th powerplay goal. This seemed to massively energize the team - good old Chemical X. The team's momentum went through the roof of Madison Square Garden as, recently waved, Jim Dowd continued his spirited, smart play and negated an icing on a dump in. This "forced" Henrik Lundqvist into a horrible decision to pressure the puck. Dowd was not bothered and made a nice pass to Stefan Ruzicka in the slot for his first of the year. The Boo-birds at MSG came out then.
As he downs another shot of
Tom Renny is still trying to figure out why in the name of Jacques Plante Lundqvist decided he was going to go mobile. At this point, you could feel the momentum shift and the Flyers took over the game and never looked back. Scottie Hartnell must have held the ladle between periods, because he got an extra shot of Chemical X. He proceeded to score a natural hattrick - one in the second on a bizarre rebound off of Lundy's equipment from below the goal line, the second was a powerplay goal off a puck swatted out of mid-air and the third - and truly backbreaking goal - was on a breakaway. Both the second and third goals by Hartnell came in the third period - so Scottie might have topped off his tank with a sip from the Chemical X Koolaide in between stanzas. After his personal goal scoring clinic, the Flyers found themselves with a 5-2 lead and the Rangers looking for the quickest exit to escape the boos raining down on them.
In the ultimate cap to a night of hard play, good luck, and individual heroics, Simon Gagne scored on the powerplay at 15:00 of the third, in his first game back. Gagne took a great feed from Danny Briere begind the net and buried a wrister behind the beleaguered Blueshirt netminder for the 6th and final Flyer goal of the evening.
All of this made possible by
Where are those empty bottles so I can send a case to John Stevens?
Good signs for the 2nd Half:
Flyers went 3-7 on the powerplay while holding the Rangers to 0-7. Huge.
Flyers won 54% of the faceoffs
- a MUST if they are to make and make noise in the playoffs.
Mike Richards
- 3 assists. 19g, 28a for 47 points and a plus 12 for the year with 4 shorties and 4 game winners - nuff said. Team MVP.
Steve Downie
- Nice hard played game (with no Colin Campbell incidents) 2 assists and was +2. 2g 2a in last 3.
Danny Briere
- 2 assists and seemed to click with Gagne in 2nd and 3rd periods. He needs to light it up in the 2nd half.
Braydon Coburn
- Flat out saved a goal. This young guy is the real deal.
Antero Niittymaki
- Shut the door after a shaky start. Nice work. Goalie controversy ? Maybe. Marty Biron is on the hot seat for sure.
Jeff Carter
- Continued strong play with 27 shifts and an assist. Huge boost if he can continue this level of play.
Simon Gagne
- Way to come back big guy. Took some hits and potted a huge one for him. Bravo.
Jim Dowd
- Great hustle. Keep it up! Nice work since going on waivers. Ultimate role player and valuable playoff asset.
I am excited about starting off the "real" season now against the Bruins. We are within striking distance of the Pens and Devils and need to pick up our game. A win against the Beantowners would give us more wins than we had all of last year and only at game 42. Much to be thankful for and Paul Holmgren and Peter Luukko deserve
HUGE
amounts of credit for making this point total possible during the end of last season and this off-season.
Homer for GM of the Year!
Playoffs? I think so.
Just keep those bottles of Chemical X cold...
Thanks for reading...
SYF