Oh Atlanta...got to get back to you
I bet if you listened closely you could almost hear Joffrey Lupul, Mike Knuble, Simon Gagne and Glen Metropolit humming the tune to the 1974 recording of Little Feat's old standby, "Oh Atlanta," as the plane hit the tarmac at Hartsfeld International. In fact, it would not surprise me at all if that quartet was heard singing the lyrics, "I said oh, oh, oh Atlanta... I got to get back to you," as they entered Philips Arena. The Flyers have not lost in their last 10 contests versus the Thrash and appeared poised to make it 11 straight after heartening and spirited back-to-back victories against the Marty Brodeur led Flyer-killers from up the Jersey Turnpike. With good vibes and a two game win streak the Flyers headed down to Georgia to offer some of their own hospitality.
Glad to be back in Hotlanta? You bet. The Atlanta Thrashers are the Southeast Divisions' version of a steaming hot mess. The Thrashers, a team not known for its defensive prowess, have lived and died by the run-and-gun wizardry of insanely talented left winger, Ilya Kovalchuk. Kovy scored 52 goals and 35 assists for 87 points on an absolutely horrible team whose next highest point getter could amass only 56 points.
If this guy were playing in a place like Boston, New York, Philadelphia, Montreal or Toronto, he would be a household name and a superstar. In Atlanta, he is a one trick pony...albeit one hell of a good one trick pony. Unfortunately for Atlanta, their goal scoring success has not overcompensated for a porous defense and sieve-like goaltending. While it is true that the Flyers have not exactly been stingy in their defense and netminding, you get the sense that they are beginning to figure things out.
Against Atlanta, they figured things out in a hurry - just 1:20 into the opening period.
Touchdown:
The Flyers' Joffrey Lupul opened the scoring, with his fourth, on an unassisted wrister before the Zamboni's engine was even cool. Whether it was that the Boys from Broad and Pattison were riding a high from the two wins versus the Devils or just because they were playing a Thrashers team they have dominated, whatever the reason, they came out firing on all cylinders and the Thrashers never knew what hit them.
Mike Knuble led off the second period with his third of the season with a wrist shot set up by Glen Metropolit and Simon Gagne. The Simon Gagne train rolled on as he buried a shot off a gorgeous play by Captain Mike Richards, stepping in front of Atlanta's Ron Hainsey to pick off an Ilya Kovalchuck powerplay breakout pass. Gagne's second shorthander of the year shook Thrashers netminder Kari Lehtonen and his team came unglued before his eyes. The unhinging of this Thrashers team was typified by the consecutive unsportsmanlike conduct penalties taken by Thrashers' Assistant Captain Ilya Kovalchuck. The second of two coming at the whistle of the 20 minute mark of the second period for throwing the stick as an exasperated Kovy hurled his lumber across the ice in frustration.
The Flyers entered the third period on the powerplay and just 1:02 later Mike Knuble potted his second of the game, with helpers from Richards and Gagne. Joffrey Lupul banged home his second of the game, a powerplay goal, and 5th for the year just 0:37 seconds later. Simone Gagne went on to pick up his second of the game and 7th goal of the young season, an even strength goal, at 7:56 of the third period. Glen Metropolit mercifully ended the scoring for the Flyers as he picked up his first of the year on the powerplay with just 2:40 left on the clock.
The Flyers put up a Touchdown and a PAT on one of the worst hockey performances put forth by any NHL team to take the ice this year. In so doing, the Flyers climbed back to .500 on this young season and leveled their record to 3-3-3.
Lessons Learned:
So what did we learn? A couple of things.
We learned that the Flyers have the ability to score in bunches. Good. Now do it against teams not named the Atlanta Thrashers.
We learned that Simone Gagne is, once again, a dominant force on the ice AND can take the hits we all dreaded during the off season.
(Huge props to the training staff who would not risk Simone's health during the playoff run - even though it must have been severely tempting.)
A white-hot Gagne has shown the kind of clutch goal scoring that has made him a 40 goal scorer for the last two seasons.
Is 50 goals out of the question?
No WAY! IF Simone is healthy for a large part of the season and IF there are no further concussion issues, then he possess all the tools necessary to make a realistic run at 50. Boy would that be sweet.
We also learned that solid defensive play by defenders and forwards not only can keep the puck out of your own net, but also lead to shorthanded opportunities and bad penalties taken by the opposition when up a man.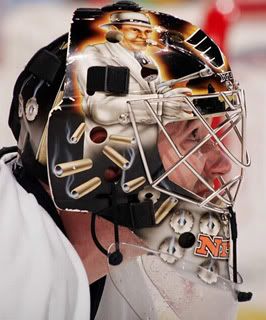 We learned that Antero Niittymaki STILL has it and looks just as sharp as he was before his surgery. In fact, it looks like he never had it to begin with. Congrats on his 4th career shutout. Goalie contraversy? Perhaps...only time will tell.
We learned that Luca Sbisa is playing far beyond his tender 18 years, setting up Gagne's second and Metrolpolit on the powerplay and recording a +2. Though it flies in the face of all hockey logic, he is playing serious minutes in key situations and is playing with grit, guts and smarts. Will he make mistakes? Surely. But, the powers that be have decided that this kid is ready and there aren't a whole lot of back up options out there. Sbisa seems to be making the most of it and that is all anyone could hope for.
The last thing we learned, and perhaps one of the most important, is that despite an injury to Danny Briere that this team can find different people and ways to score. Until the D is fully healthy (Jones and Parent), the Flyers are going to have to give their goalies a break and not have to pitch a shutout every game. The Orange and Black are blessed to have incredible depth at Forward and it is that depth which will see them through to the time when they can field a healthy team. I love the addition of Glen Metropolit - a goal, two assists and a plus 2. Not too shabby.
Where do we go from here?
The statement that the Thrashers are a steaming hot mess could be challenged only by the level of futility achieved by this year's incarnation of the New York Islanders. The Flyers host the struggling Fishsticks from Long Island tonght and will be an interesting contest on many levels. The Isles are a proud hockey team with a rich and storied history - they also a train wreck waiting to happen. Their franchise goalie is injured - perhaps very seriously so, they've scored just 19 goals (while giving up 29), have lost four straight games and have complied the lowest point total in the NHL. They should be easy pickings for a Flyers team starting to feel its oats. John Stevens has a job keeping his players focused on the task at hand and taking care of business. I am interested in seeing how Simone Gagne continues to round into game shape and regain his timing - he could be scary good in another month. I am also interested to see if the Flyers are able to shut down the Isles from the Forwards back and if gap control is able to be maintained.
I fully expect the Flyers to win tonight...however, I want to see how they win and what lessons learned from the prior three victories carry over.
I am sorry that I have not been posting as frequently as before, but that will hopefully revert back to normal soon.
Since my underdog Phillies are now World Champions, I would like to leave you the words of the immortal Satchel Paige...
"Never let your head hang down. Never give up and sit down and grieve. Find another way."
The Phillies found another way despite mother nature, a very good Tampa Bay team and their own inability to score with men on base. Hopefully, the Flyers can find another way to keep this winning streak going and learn the lessons that pay dividends come playoff time.
Thanks for reading...
SYF